Code of Conduct
After mounting calls for the Ethnic Relations Commission (ERC) to produce a Code of Conduct for the elections, the document was finally signed on Thursday.
Hours after, General Secretary of the People's Progressive Party/Civic (PPP/C), Bharrat Jagdeo, welcomed the move by saying that said his Party will abide by the framework and speakers found guilty of breaching the document would be denounced.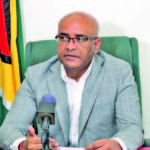 "We intend to abide by the provision of this Code of Conduct. We've made it clear that people should refrain any speaker who speaks about people's gender or their race and religion on the platform. Any PPP speaker will be sanctioned by our Party, publicly denounced," he stated.
While sharing that position, he indicated that the other parties, particularly the A Partnership for National Unity/Alliance for Change (APNU/AFC) coalition, should also enforce these principles.
Jagdeo referred to activities organised by the PPP in communities, which were disrupted by supporters of other parties. The most recent at that time was an incident on Wednesday night in Golden Grove, Region Four (Demerara-Mahaica).
"This [Code of Conduct] speaks about the use of threatening language, disrupting other parties' activities, tearing down their flags etc. Just last night (Wednesday), we had many leaders of APNU who urged people in Golden Grove to break up a meeting that we had. Even when they're signing these, last night that was an organised activity to break up the meeting," he shared.
Part of the document also speaks about the conduct of public services agencies; in that, it should be free from political influence. For this, he urged the Commission to enhance its monitoring and enforce sanctions for any entity found guilty of breaching these principles.
"The first article quoted in this Code of Conduct is public service to be free from political influence…I hope that APNU has signed onto it, that we will see a change in the State media and secondly, that the ERC will now start calling out the State media for what they've been doing, for taking openly partisan positions," he asserted.
For many weeks, the PPP had called on the Commission to have parties sign on to the Code of Conduct to free the election of discriminatory remarks or actions. Jagdeo had even stressed that the document was even more important at this time, rather post-elections. He explained that during events leading up to Elections Day, there is a possibility that inflammatory statements may surface.
Last month, Chairman of the ERC, Dr John Smith, had disclosed that the Code of Conduct was sent to all parties contesting the elections. After a second draft was issued, the interest was lacking from many political parties contesting the 2020 polls. In fact, for the first draft, only the Opposition – PPP/C— had signalled its support.
The constitutional body was empowered to recommend the banning of political parties from participating in elections if it is found guilty of breaching laws dealing with ethnicity. However, over the years, no action was ever taken against groups or individuals for breaching such laws.
The Code of Conduct seeks to address the conduct of politicians in all public forums, including political rallies.
The pledge warrants politicians to ensure that the messages delivered to supporters are free of all forms of discrimination.