The village of Affiance, on the Essequibo Coast, Region Two, came alive on Saturday evening as the Imam Bacchus and Sons Supermarket illuminated a 25-foot Christmas tree.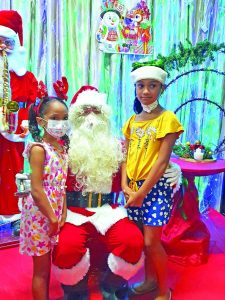 The ceremony beckoned the goodwill of the Christmas season as Imam Bacchus brought cheer to children who turned up in their numbers to witness the light-up. Their faces were full of excitement upon seeing Santa Clause and his helpers who distributed goodies.
At the event, two young children told Guyana Times that Christmas is their favourite time of the year. One of them stated that she is happy that the business community continues to spread Christmas cheer and more so, lit a tree despite the COVID-19 pandemic.
"This is my favourite time of the year, and with this event, I feel the Christmas spirit already. I thought it would be something normal but to be it was something extraordinary…I really enjoyed myself this evening, receiving chocolates and holiday snacks and playing at the relaxing recreational park pleased everyone, also taking pictures with Santa was exciting and with all this, I would like to thank the owner of this business for organising this activity," she related.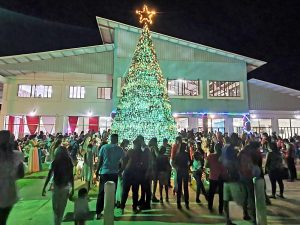 Businessman, Aadil Baksh related that the event was organised mainly to bring staff and communities together, and also to put a bright smile to the faces of the children in the community.
"Since our businesses were established, Saturday has marked the first time ever we lit a tree…I would say that the turnout was overwhelming and we were happy to treat every child that was present. I'm really happy with my staff efforts and the joy it brought to the community."
He further stated that the establishment will make the event an annual one so as to bring more joy and excitement to residents.