Twenty-eight (28) children of staff members of the University of Guyana who sat the 2021 National Grade Six Assessment (NGSA) are preparing to enter high school.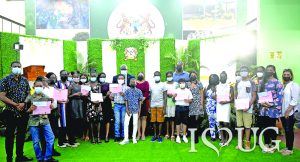 However, during a simple ceremony at the George Walcott Lecture Theatre, Turkeyen Campus, the children were presented with cheques for their exemplary performance.
University of Guyana's Vice Chancellor, Prof Paloma Mohamed-Martin congratulated the students and wished them well as they continue their academic journeys.
"We are not considering whether they passed to go to a top school or a low school, we are considering the fact that they wrote the examination and passed under very difficult times, and we wanted to always consider the equitable distribution of what we can share."
The VC also thanked the parents of the students whom she said have also made tremendous sacrifices to ensure the children persevered under the most challenging circumstances.
"We also know that the parents from the University were lifting up our UG students and our students who had to graduate, while their own child/children might have been sometimes struggling," the VC expressed.
The bursaries are intended to be used to purchase school supplies and other items they may need.
In addition, congratulations were expressed to the children and their parents from the Chancellor, Prof Edward Greene and other members of the Senior Management Team of the University of Guyana.