The year 2018 ended on a grieving note for an Essequibo Coast, Region Two (Pomeroon-Supenaam) family after a labourer, Kevin Moses Betancourt, was stabbed to death.
Reports are the 23-year-old was stabbed to death at about 21:30h on old years' night at Pamona Housing Scheme.
According to reports, Betancourt went in search of a friend with whom he had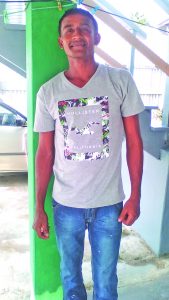 earlier in the day met in a masquerade band. Guyana Times was told that as the 23-year-old entered the premises at Pamona Housing Scheme, the suspect, who was intoxicated, requested that he leave the yard. This led to a physical confrontation and the suspect whipped out a knife and wounded Betancourt to his neck and chest.
The young man was rushed to the Suddie Public Hospital where he was pronounced dead on arrival. A relative of the suspect told this publication that he was recently released from prison, having served time for assaulting an old man. The suspect is from the Pomeroon River area and was spending the holidays at his cousin's residence in Pamona.
Speaking with Guyana Times, the dead man's mother, Bibi Nazim said her son Kevin is her second child of four children, born in Venezuela. She said the family moved back to Guyana about 10 years ago. The suspect was subsequently arrested.
Meanwhile, a post-mortem examination conducted on the body of Betancourt showed that he died as a result of a perforation to the heart.