A 60-year-old fish vendor of Walton Hall, Essequibo Coast Region Two (Pomeroon-Supenaam) met his demise on Thursday after his home went up in flames.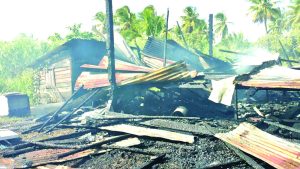 Dead is Ramdass Samdass, who shared the property with his partner, Serogene Persaud.
The Guyana Fire Service responded to reports of a fire at about 13:26h, and two fire tenders from the Anna Regina station were immediately dispatched to the location. Firefighters attempted to extinguish the blaze, but the wooden one-flat building was completely destroyed, along with furniture and other contents. By the time the flames had been extinguished, the structure was completed charred and flattened.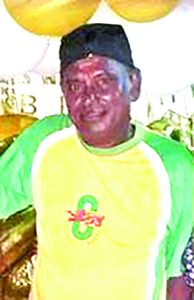 Guyana Times understands that Samdass tried to escape the blaze. However, he was severely burned, and later succumbed to his wounds. Attempts to save him also proved futile. His partner did not sustain any injuries.
Meanwhile, an investigation is underway to ascertain the cause of the fire. Consequently, the GFS has urged citizens to equip their homes with smoke detectors and fire extinguishers, and to be careful when cooking or using electrical appliances.
"Unplug electrical appliances after use, and do not leave them plugged in for prolonged periods. Do not overload power strips or electrical circuits. Ensure stoves are turned off properly (after) cooking, and ensure matches or cigarettes are put out completely (after) smoking," a GFS statement has said.