Digicel Schools Football Championships…
 By Akeem Greene
The seventh edition of the Digicel Schools Football Championships got off to a rousing start on Monday afternoon when Essequibo Islands Secondary inflicted a 6-1 hammering on Parika Salem Secondary at the National Track and Field Facility at Leonora, WCD.
Dicquan Clarke, with a hat-trick, orchestrated the resounding victory for Essequibo Islands Secondary. He was supported by a brace from Reon Venture and a lone goal from David Charritar.
Venture opened the scoring in the 13th minute with a piercing strike down the right, fired after a brilliant running effort to beat a diving custodian.  This proved to be the only highlight in the first half of the game.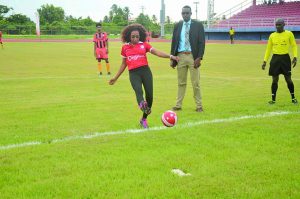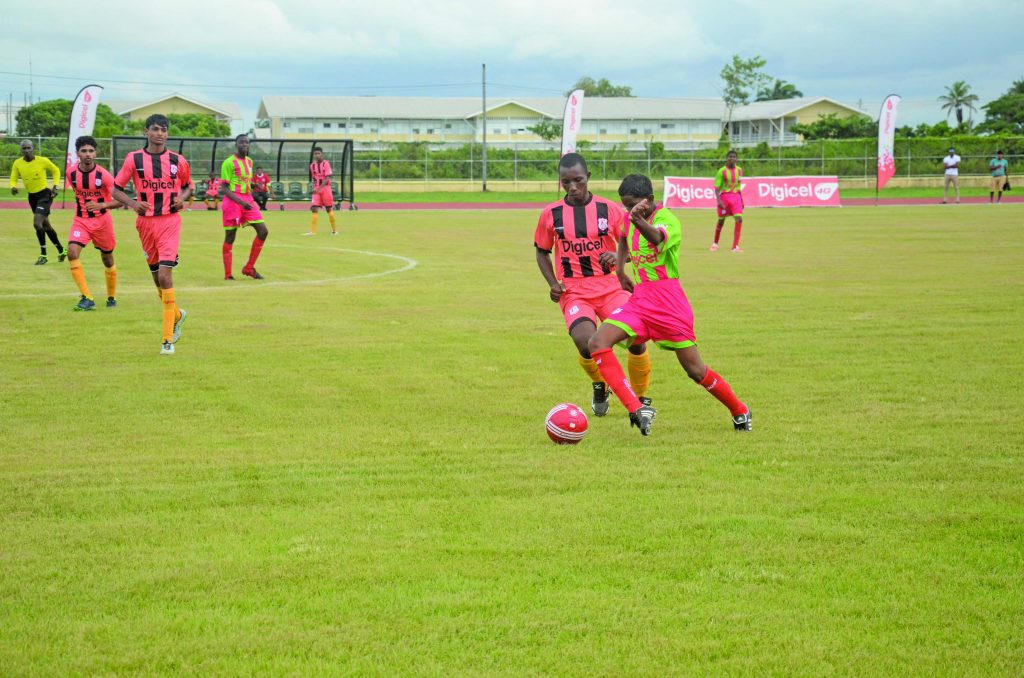 When second half play commenced, both teams played with great urgency and a clear desire to dominate the opposition; but when Jamal Baker scored the critical equaliser in the 40th minute, the game became a virtual one-sided affair from then on
Clarke first registered his presence in the game with a 44th minute right-foot shot inside the 18-yard box that had goal written all over it. Four minutes later, he switched to the left foot and scored another goal, mainly due to lacklustre goal-keeping.
Venture reappeared in the limelight when he netted a goal in the 52nd minute, and Clarke again tormented the Parika Salem custodian in the 61st. Both these goals were scored in quite identical fashion, with right-foot shots beaming past an immobile keeper.
The final nail was struck in the Parika Salem coffin when David Charritar nonchalantly slipped in a goal for Essequibo Islands Secondary whilst confusion reigned among the Parika Salem defenders.
Prior to the encounter, Digicel's    Head of Marketing, Jacqueline James, and Director of Sport, Christopher Jones, greeted both teams and wished them success in the tournament. James undertook the ceremonial kick-off.
Championship action continues today at the same venue when Leonora Technical Institute oppose Professional Learning Institute from 15:30 hrs.
Close to 160 schools are participating in this year's Championships. At stake is the prospect of gaining top honours and winning one million dollars which will go towards a school project of choice.
Second place finisher will play for $700,000, third $400,000, and fourth $350,000. All money won will go towards a school project of the winner's choice.
The top regional winners of the straight knock-out tournament will be awarded $100,000 each.
The tournament will last for approximately six weeks, with the finals set for July 30 at the same Leonora venue.