By Michelangelo Jacobus
As local bodybuilder extraordinaire Emmerson Campbell prepares to jet off to Trinidad and Tobago to compete in the Sports World Classic competition slated for June 24, he revealed in an exclusive interview with Guyana Times Sports that his preparations are miles ahead of schedule, and he aims to "bring home hardware".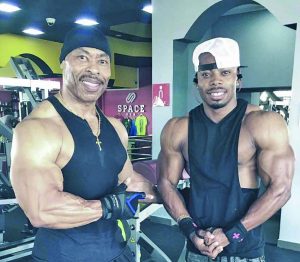 "Everything has been on stream, I have no complaints. My training and nutrition have all been on point this preparation," he explained.
Campbell pointed out that since becoming more knowledgeable about his body and its innate workings, "this is probably one of the easiest preparations I've ever done for a show, since I'm more knowledgeable of my body and its reactions to training, types of foods, and so forth."
While he copped silver at last year's Central American and Caribbean (CAC) Championships last year, it was just by one point that he had missed out on gold.
With the competition a mere week away, Campbell noted, he has injected a bit more discipline into his routine this time around.
"I did more cardio and pushed myself more in the gym, and was a bit more disciplined this time around. Overall, I have a better physique in terms of muscle separation and conditioning than I had at CAC. I was ready to compete three weeks ago, so I am way ahead of schedule. I will be tough to beat, come game day," he confidently stated.
Noting that sponsorship is not always available for local athletes, he expressed gratitude for "a great support system like Abdool and Abdool, Fitness Express, APT (Aesthetic Personal Training) Gym, and others who are confident in my abilities."
Campbell, in continuing along that vein, pointed out that "Corporate Guyana can do much more in terms of using athletes to market their products. But that hasn't been done to their fullest potential. Sport is a business that must be invested in. Corporate entities know that, but they also need a drawback; so it goes both ways."
Exuding confidence in his ability, the Fitness 53 gym member noted, "It's always me against the man in the mirror. Once I can better my last performance, I have already won, regardless of the placing. But I am certain I will be returning with hardware. After all, it's a subjective sport, and the judges will decide who wins. It's just up to me to make it easier on them."
The Sports World Classic is just a tier below the CAC Championships and is expected to attract some of the region's top bodybuilders.