…predicts more could be fired in 2019
With the recent announcement by the Guyana Agricultural and General Workers Union (GAWU) that more sugar estate workers could lose their jobs soon, former Agriculture Minister, Dr Leslie Ramsammy is of the strong opinion that every sugar worker that remains employed within the industry is on the breadline.
He said the coalition Government's plan for the sugar industry is unclear, aside from the plans to continuing downsizing. "The injustice continues. It proves that every sugar worker with a job is at risk under this Government. They must have sleepless nights wondering if the next day will be the last day for their jobs," he said.
GAWU had revealed that the workers which face dismissal are those that were retained following the closures of the Wales, Skeldon, Rose Hall and East Demerara estates to maintain skeleton operations at the factories. These workers were involved mainly in security, drainage and irrigation and power house operations.
The Union said that the Guyana Sugar Corporation (GuySuCo) had indicated that it was always its intention to have the workers terminated and it is now giving effect to its intent.
But Dr Ramsammy questioned whether any arrangements are in place for their severance, adding that there are still hundreds of Wales's workers awaiting severance, even after the recent payments. "Are these newly unemployed workers to be subjected to the injustice of delayed severance payments?"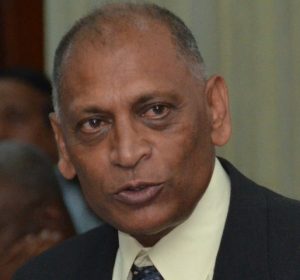 The former Minister told Guyana Times on Sunday that the recent laying off of more workers proves the associated GuySuCo services such as residential drainage and irrigation services are slowly being abandoned in the former sugar estates. "Who will take up the responsibility? The NDCs [Neighbourhood Democratic Councils)] or the RDCs [Regional Democratic Councils] or the NDIA [National Drainage and Irrigation Authority]?" he questioned.
According to Dr Ramsammy, none of these arrangements were in place before the closure was made. He reminded that the expenses of GuySuCo included these non-sugar expenses. But he argued that with or without sugar, these expenses must be incurred and part of the subsidy for GuySuCo included this.
"Now Budget 2019 has been passed and no provisions were made for these expenses. And with the laying off of these workers, GuySuCo is now also abandoning these services," the former minister pointed out.
Total betrayal
Further, he said the actions of the coalition Government towards these workers and the sugar industry as a whole amounts to total betrayal. While Government has announced that workers are to be given a bonus for reaching the 2018 target of 103,000 tons, he reminded that this is a right and part of the sugar agreement for more than 50 years.
"Workers are entitled to an Annual Production Incentive (API) each year. In 2015 it was reduced. In 2016 and 2017 workers were denied any API on the basis that they did not reach target," he recalled.
However, he said the bonus was never based only on reaching the target. Workers always were entitled to a bonus based on annual production of a day's pay for a certain amount of tonnage for the year. Thus, at the end of the year they got one or more days pay based on annual production, not only on reaching target.
"This year if we believe the Government, the workers will get the bonus because they reached the target. The question is what is the bonus based on? How many tons of sugar will equal a day's pay?" he further questioned.
But more worrying, Dr Ramsammy believes that "the assault on the workers by Government" is not over. He feels the country could see even more workers laid off in 2019, adding to the already hundreds that were severed.
"In the end the Government had pursued a path that will see Guyana losing more than US$100 million in export earnings from sugar. It means that when oil revenue starts coming, instead of adding to our revenues it will merely replace lost revenues. This is unfortunate for Guyana. In the meanwhile, the sugar workers have been made the poster child for injustice in Guyana," he added.
Finally, the former Agriculture Minister recalled Vice President and Public Security Minister Khemraj Ramjattan saying that Government sees sugar workers as "PPP people". "The action of this Government against sugar workers means that APNU/AFC has deliberately sought ways to remove from the industry and to ensure they create a pathway for what Volda Lawrence describes as "PNC people."
Dr Ramsammy said he can therefore conclude that "political vendetta" has led to the closure and dismissal of sugar workers. "The latest dismissals demand a raised from all decent Guyanese. Those sugar workers and their facilities and any decent Guyanese know they will not hear anything from those who rode on the backs of the sugar workers for the power they now have," he concluded. (Samuel Sukhnandan)