Christmas shopping
With Christmas Day only days away, Georgetown is buzzing with activities as excited persons fill the city's streets and sellers display their festive commodities.
Georgetown — in particular along Regent Street to Avenue of the Republic — is becoming more congested, as exuberant vendors look forward to an exciting Christmas with their families this year.
However, when Guyana Times caught up with some of the vendors on Monday, they expressed that all is not as merry and bright as it may seem. A clothing vendor who gave her name only as Natasha said sales are slow although the
streets are filled with persons.
"Right now things lil slow, but I'm hoping that it will pick up, maybe by weekend into next week. People not really buying clothes…but in between yuh still getting one and two things sell. I know things will pick up later on, man," she told this publication.
Meanwhile, a beads and craft vendor related that "things going nice" so far for the season.
Leon Anthony said people are shopping every day. He took the time to encourage the Guyanese public to be safe on the road ways, and to always designate a driver if consuming alcohol during this season.
"Everything nice, man! Everybody doing deh shopping; businesses blooming and so on. No complaints. My wish for Guyana is for everyone to have a merry Christmas and a blessed new year. Make sure to use the roadways safely, and just have a nice time," Anthony declared.
Don Paul, a fruits vendor, highlighted the reason for the season as he stated that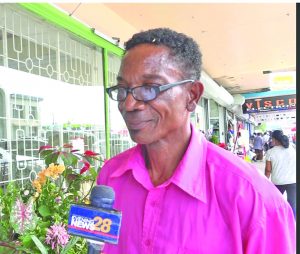 it's a time to spread love and joy to each other. "It's not only shopping up and suh; this time is to spend time with yuh family and people close to you. My plans for this Christmas is just to eat, drink and be merry. Season's greetings to all Guyanese near and far".
He also noted that even though "things are slow", he is contented with whatever he sells at the end of the day.
When Guyana Times spoke with plants vendor Jerry London within the city about business sales and his plans for the season, he related that even though the holidays are near, the sales are still quite low.
"Well, even though things are slow, I know that Guyanese are late shoppers; so I'm hoping that it will pick up in the week."
These vendors remain positive that things will change over the coming week.
Safety
For business persons, the Guyana Police Force has called for checks to be made to Closed Circuit Television (CCTV) systems to ensure they are working properly. In fact, the Force is encouraging that Digital Video Recorder (DVRs) be properly secured to preserve valuable information.
Advice was also issued for visitors in the capital city by 'A Division' (Georgetown-East Bank Demerara) Commander Marlon Chapman recently, as he urged
shoppers to "carry your wallet in an inside jacket or inside trousers pocket. Avoid rear pockets. Keep purses on your lap when dining out, Not dangling over the back of a chair."
According to Chapman, Police patrols and outposts around the city will be boosted in a bid to ensure a secure shopping environment.
He revealed that part of the efforts to ensure increased safety is the splitting of Georgetown into seven sub-sections, as compared to six last year.
These sub-sections run from Agricola, Greater Georgetown to Central Georgetown. The areas will be equipped with mobile outposts and frequent patrols will occur, with senior members of the GPF in charge of each sub-sector.