…accomplices freed of charges
A 23-year-old ex-Policeman, of Adam's Road, Soesdyke, East Bank Demerara (EBD), was on Tuesday sentenced to four years in prison by Senior Magistrate Leron Daly on a trafficking of cocaine charge, which occurred back in 2017 at the Cheddi Jagan International Airport (CJIA).
Louie Dublin, along with his two accomplices Delvor Bunbury and Gavin Harris, was charged back in 2017 for the crime and was remanded to prison.
The ex-cop was busted during a sting operation carried out at the Lotus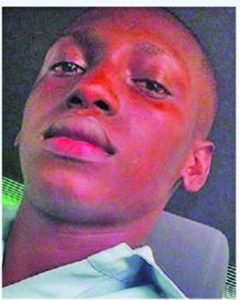 Restaurant and Bar located at CJIA, Timehri, EBD, where he was found to have in his possession a bag containing the illegal drug ,which was said to be given to him by the other two accused.
However, the charges against Bunbury and Harris were dismissed, since Magistrate Daly ruled that the prosecution did not provide sufficient evidence to prove the men guilty of the offence.
Meanwhile, Dublin faced the full brunt of the law after sufficient evidence was found for him to be convicted. At the time of the drug bust, Dublin was a serving member of the Guyana Police Force (GPF) while Bunbury was Manager of Ivor Bunbury Furniture and Harris was his assistant.