As the curtains came down on Exercise Tradewinds 2021 which was hosted in Guyana, Prime Minister Brigadier (retired) Mark Phillips told the 13 other partner nations that their participation in this exercise not only highlights the common concern for regional security, but is also a reassurance of their unwavering commitment towards peace and stability in the hemisphere.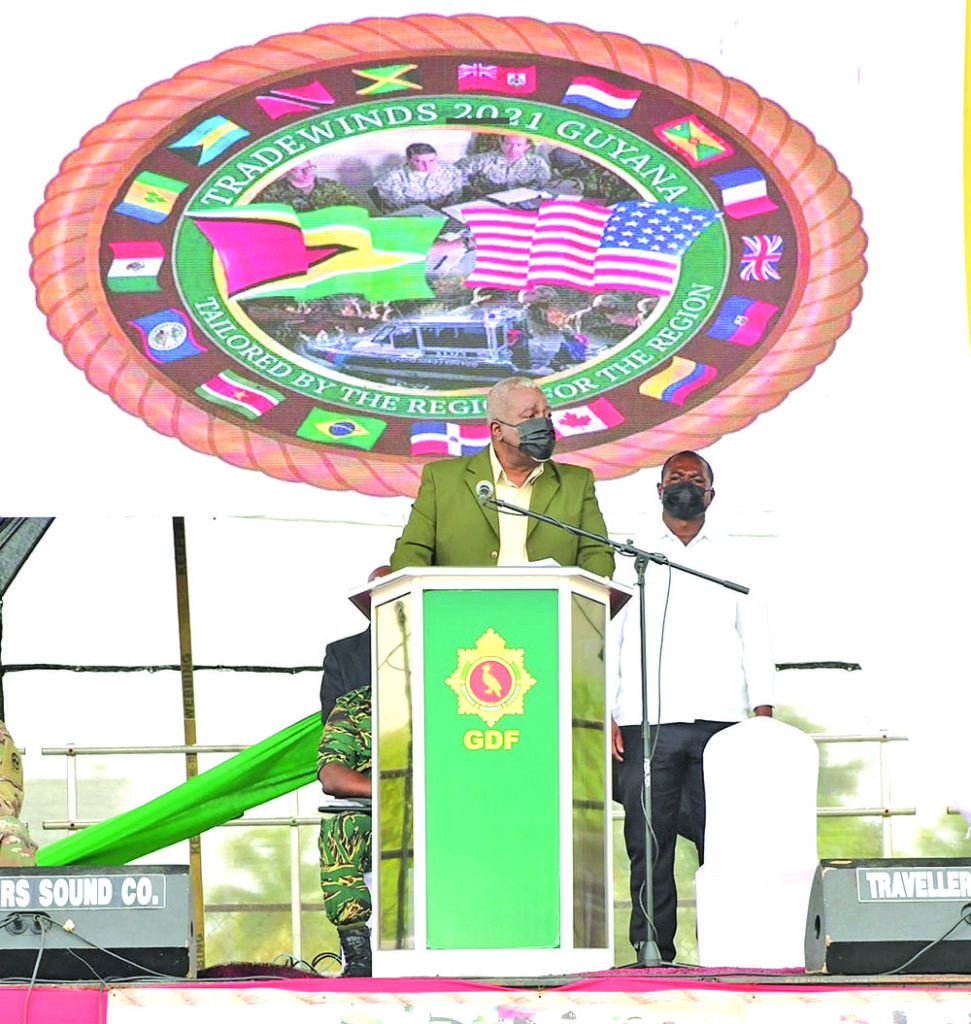 "Exercise Tradewinds is a key fixture in the annual calendar of activities, because it contributes to the strengthening and institutionalisation of our Caribbean Regional Security System and its arrangements. Exercise Tradewinds fosters regional cooperation since, as countries of the Caribbean sharing the same geo-political space, it also means the sharing of common problems and the fact that we will be more respective to working together to resolve these problems," he said at the closing ceremony on Friday morning at the National Stadium's tarmac.
The exercise was sponsored by the United States Southern Command, and is held annually. However, due to the COVID-19 pandemic, it was postponed in 2020. Under the aptly-titled theme: "Tailored by the region for the region", the exercise saw participating ranks joining with their counterparts in the region to conduct joint, combined and interagency training which covered the full spectrum of military operations.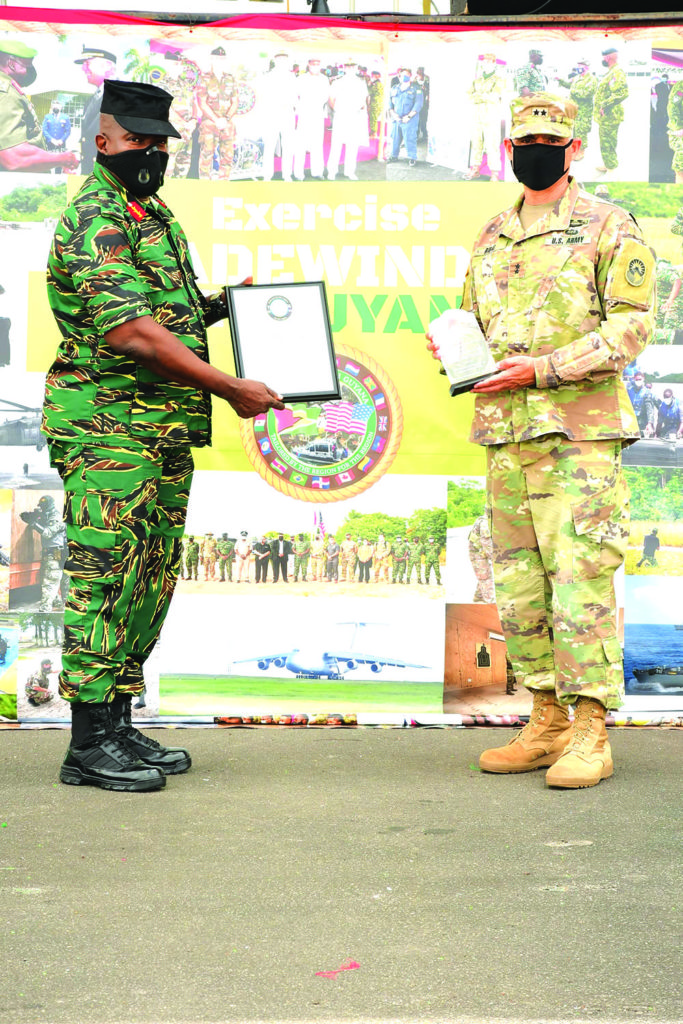 According to the Prime Minister, Exercise Tradewinds has displayed multinational support to the highest, and integration at its best. He commended the planners of the event for ensuring that all the training activities – air, land and sea – took place within Guyana's territorial space.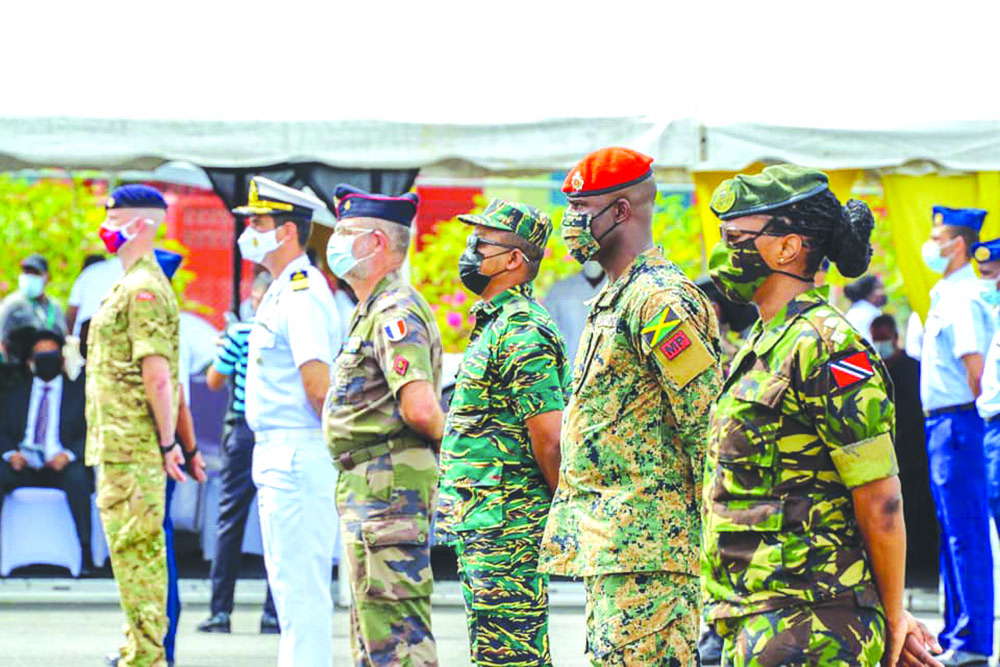 "Rest assured that the camaraderie, network and cohesion established during this exercise can only become stronger with time. Exercise Tradewinds has proven that, as partners, we believe in supporting each other, upholding the rule of law, embracing the democratic principles, and ensuring peaceful co-existence with each other," Phillips told the partner nations.
The Prime Minister's remarks have reflected President Dr Irfaan Ali's sentiments expressed on Thursday evening when he hosted a cocktail reception at State House to honour the heads of the participating delegation.
During the event, the Head of State said partnerships stemming from the multinational military exercise are critical for the overall peace, security and stability of the region. He also encouraged the participating countries to continue their strong networking and the building of integral relationships.
"You must have, at various levels, colleagues who can pick up the phone and talk to each other, and exchange ideas and talk about things," President Ali stated.
The Guyanese Leader also pointed out that security of the region should always be a priority.
"The overall objective from all of us who participated here is to ensure we build an international coalition to ensure the peace and stability of this region; to ensure the security, and to ensure this region never becomes a safe haven for transnational crime," he posited during Thursday's reception.
During Friday's closing ceremony of 2021 Tradewinds Exercise, Chief of Staff of the Guyana Defence Force (GDF), Brigadier Godfrey Bess, lauded the event as a success, since there were no casualties or serious injuries, but provided a training environment with a high degree of professionalism.
"While Exercise Tradewinds 2021 would have covered a broad spectrum of elements, this was delivered with a high degree of safety and professionalism… This kind of professional adaptation and application is what delivers cohesion in planning, execution and evaluation. It is what determines overall victory to counter the emerging threats. With Exercise Tradewinds 2021, we have demonstrated that such delivery is not only possible, but it's highly likely," the GDF Chief of Staff outlined.
Meanwhile, SOUTHCOM's Director for Mobilisation and Reserve Affairs, Major General Rafael Ribas, expressed appreciation to Guyana for stepping up to host the exercise at short notice. In addition to the GDF, he also singled out the assistance of CARICOM and Caribbean Disaster Emergency Management Agency (CDEMA) in conducting Tradewinds 2021 during global pandemic.
Further, Major General Ribas underscored the importance of not just in-person training to strengthen partnerships, but also training together in the region, as he stressed the interconnected relations between the United States and the Caribbean.
"We're also connected by common threats such as the current threat of COVID-19, natural disasters and illicit trafficking. We don't know when the next big crisis will come, but we must continue to train together so that we can respond quickly when it does… When we work together as a team, we prepare better, respond sooner, and recover faster," the SOUTHCOM official asserted.
Meanwhile, similar sentiments were expressed by US Ambassador to Guyana, Sarah-Ann Lynch, who witnessed first-hand how Exercise Tradewinds provided a unique opportunity for participating nations to improve interoperability and effectively execute missions together amidst the pandemic and the need to adhere to stringent safety protocols.
During the past two weeks, local ranks collaborated with their overseas counterparts to build capacity, exchange approaches to training, and share respective tactics, techniques and procedures, as well as networking with each other to form long-term relations.
According to the GDF's Lead Planner of Exercise Tradewinds, Lieutenant Colonel Lloyd Souvenir, networking was a major accomplishment.
"The training was beneficial for our ranks as well as our partners. A lot of ideas were exchanged, a lot networking was established, and the partnerships were strengthened… I believe that we as the host were able to strengthen our capacity in the area of hosting," Lt Col. Souvenir told this newspaper.
Ranks from the GDF as well as the Guyana Police Force were trained in various military skills, including close-quarters combat. They were also trained in marksmanship; emergency medical evacuation; search, rescue and recovery responses, and mechanical and engineering repairs for both air and water transportation, among other areas.
Along with Guyana and the USA, ranks from the United Kingdom, Canada, France, Netherlands, Brazil, Bahamas, Barbados, Belize, Bermuda, Dominican Republic, Jamaica, and Trinidad and Tobago participated.