A 24-year-old man was on Friday morning stabbed to death by his brother at Cummings Street, Alberttown, Georgetown, after he reportedly assaulted their mother by punching her to the face.
Dead is Paul Chase of Lot 101 Cummings Street, Georgetown, while the suspect is 27-year-old Quincy Reynolds.
Police preliminary investigations revealed that on the day in question, as per normal, the two men turned up at their mother's house to have breakfast. However, while there, the woman reportedly questioned Reynolds about a burnt spot on a mattress.
This angered him and as such, he began to shout at his mother in the living room. Reynolds then dealt one cuff to his mother's face, causing her to receive injuries to her left eye.
Upon seeing this, the now dead man confronted him and a heated argument broke out between them.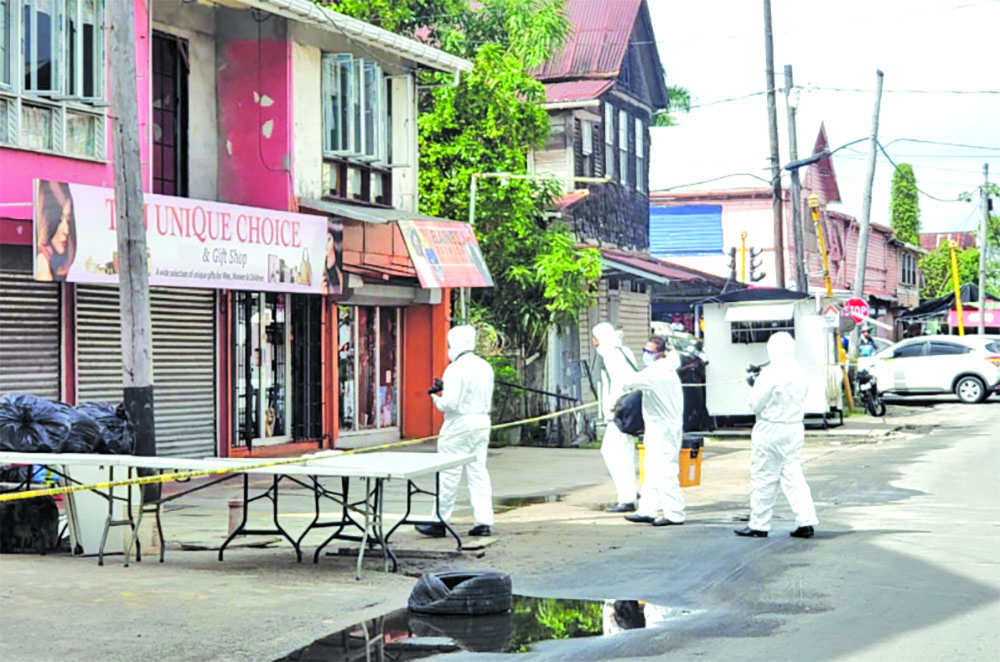 It was at that time, Reynolds armed himself with a knife and stabbed Chase once to the chest and once to the neck. As a result, Chase reportedly collapsed and was taken to the Georgetown Public Hospital where he was pronounced dead on arrival.
Reynolds was arrested with what appears to be a bite mark to his neck.
At the scene on Friday morning, a vendor who witnessed the ordeal told media operatives that she would usually store her goods at the building which is also occupied by the boys' mother.
On the fateful morning, she reportedly went to the upper flat of the house to bring down her goods, when she heard an argument among the two boys and their mother.
"One of them [the brothers] was there earlier, and the other one came and he was upstairs… as I was bringing down my goods, I hear the mother rebuking one of them about something that he did… they had the argument to and fro and the mother was talking. The next thing I heard is the next one say, 'boy why you cuff mommy, how you gonna knock your mother'… then I heard the next one say 'oh, you going for a knife'," the vendor related.
The woman said after hearing that, she rushed upstairs and found the mother and her two sons engaged in a heated argument. She said she tried to be a peacemaker by putting Reynolds to sit, just to calm him down.
"I spoke to him and I said I have big children like you, and I told him even if your mother talk to you hard, there is nothing wrong with that, you need to walk away, you had no right hitting your mother… after that I was just watching them and they still arguing."
The woman, who did not want to reveal her name, related that in the heat of the argument, Reynolds turned on his brother and began asking him about some money.
"He started asking him about some money and the boy said I don't have no money to give to you, and he jump up and attack his brother and the boy was wrestling with him and he started stabbing him up… I started hollering for murder, murder to alert people," the woman recalled.
Upon seeing this, the Police were summoned to the scene. The eyewitness related that based on the looks of the young man whose body was covered in blood, he was already dead at home. The mother was too distraught and had to be comforted by residents and others who turned up at the scene.
Chase's body was escorted to Lyken Funeral home awaiting a post-mortem.