Entrepreneur and investor, Kirk Anthony Hamilton has aired his views about the Caribbean and the doors of opportunity that can be opened if resources are utilised and injected in the correct sectors.
At the American Chamber of Commerce (Am-Cham) Guyana lecture at Duke Lodge, Kingston, Georgetown, Hamilton relied on his experience as he listed the unlimited potentials of Guyana and other countries, which are growing to become "economic stalwarts".
"We don't take a view of the Caribbean as it is but we sell a version of the Caribbean that we think it can and should be…The Caribbean is not just what we're promoting in terms of stones, sand and seas but actually a remarkable area of intact potential and opportunity that is simply looking for collaborative non-exploiting partners to help create a vibrant economic team," said Hamilton as he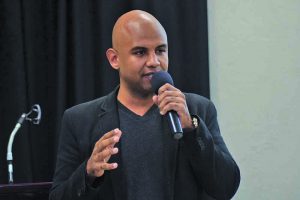 addressed a group of diverse stakeholders.
He explained that the economic shift among Caribbean islands is also significant to observe and how impactful it can be to the region and its people. He posed to mention the isolated gap which existed between counties outside of the region and how this was bridged by social and infrastructural expansion.
"We're currently living in a very hypo-connective world where devices through the Internet created a whole new eco-system, a whole new social world and ultimately, in the age of automation and robotics, a lot of things are shifting that in many cases, we are not one in control," he continued.
Hamilton explained that while these technological advancements have proven to ease the world of certain physical activities, it also advocates for isolation since it builds a new social hierarchy.
However, the idea of inclusive growth is something that should have been obvious throughout the years since "expectations are changing" and "knowledge is spreading".
Am-Cham featured the investor at a time when Guyana is about to extract first oil by 2020. ExxonMobil made its 10th discovery last week. The Pluma-1 well is located some 27 kilometres (17 miles) South of the Turbot-1 well and follows previous discoveries on the Stabroek Block.
The well was safely drilled to 5013 metres (16,447 feet) in 1018 metres (3340 feet) of water. The previous recoverable resource estimate on the Stabroek Block was more than four billion barrels.
This discovery reinforces the potential of the country being able to produce more than 750,000 barrels of oil daily by 2025 and the potential for development in the South-East section of the Stabroek Block. The Stabroek Block is 26,800 square kilometres.
According to the Natural Resources Ministry, the Noble Tom Madden is expected to begin drilling the Tilapia-1 prospect located some 5.5 kilometres (3.4 miles) West of the Longtail-1 well. The Stena Carron drillship has recently completed operations at Hammerhead-1 and will soon drill its next well following scheduled maintenance.