Head of State President Dr Irfaan Ali on Saturday conducted a walkabout at proposed sites associated with the new Demerara River bridge, making it clear that the bridge must be completed within four years and promising that they will begin inviting contractors to submit Expressions of Interest (EOIs) for the project this weekend.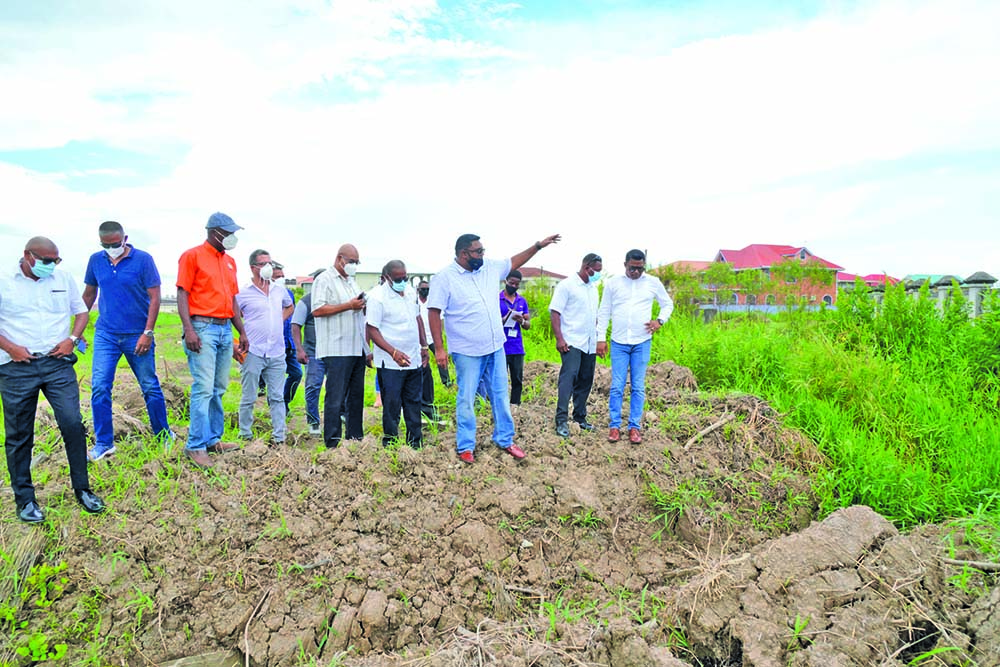 During his walkabout on Saturday, President Ali visited two locations, one in the vicinity of Windsor Estates and the other at Peters Hall, East Bank Demerara (EBD). Peters Hall is the eastern end of the proposed landing site for the bridge, while it is understood that a road will be laid from the bridge and through Nandy Park.
While at Peters Hall, the media was informed that the tender for Expressions of Interest will be published this weekend. Moreover, the President made it clear that the project, a four-lane, fixed high-span bridge, must be completed within four years.
"Let me be very clear. We have to complete this bridge within four years. We have to. And in my estimation, within three years from the time we start today, we should be having that bridge. And this bridge will have various interconnections and this [is] one of the interconnections."
"The main interconnection. There will be at least four other feeder roads, linked to the new highway. So, the flow of traffic will be in a circular motion, connecting with the East Coast, East Bank, Georgetown and then moving further on to the Linden-Soesdyke Highway," Ali, whose PhD is in Urban and Regional Planning, explained.
Moreover, the President also assured residents that he will soon send Public Works officials to have consultations with them. Meanwhile, Public Works Minister Juan Edghill explained that the construction of the bridge will be interconnected with the Ogle bypass road. He also explained why it was necessary to visit the housing scheme and its connection to the bridge.
"I know some people might be wondering why we're at the back here when the bridge is located across the river. Because of where the channel is located in the Demerara River, closer to the eastern side with a five per cent degree grade, we need about 4000 feet to get a proper gradient exiting off the bridge to be able to get the turnout. So, we have to be able to create room here and we have adequate room. We've walked the alignment."
Besides President Ali and Edghill, the team on the ground also included Minister within the Public Works Ministry, Deodat indar, as well as Civil Engineer Marcel Gaskin and Technical Services Manager within the Public Works Ministry, Nigel Erskine.
The construction of the bridge will be a timely one, as the East Bank is notorious for its traffic congestions. The former Government was originally going to go with a retractable, three-lane design but after immense criticism had switched to a fixed, four-lane proposal.
Not long after it took office in 2015, the APNU/AFC Government engaged in efforts to have a feasibility study for the project. However, the awarding of that contract was marred in controversy, with the Auditor General, Deodat Sharma, pointing to major breaches of Guyana's financial laws.
No less than the Public Procurement Commission (PPC) had flagged former Public Infrastructure Minister David Patterson for requesting from the then Cabinet that the feasibility contract be sole-sourced instead of being processed through the National Procurement and Tender Administration Board (NPTAB).
The PPC had found that after the bidding process was annulled because of non-responsive bidders, NPTAB had approved for the project to be re-tendered. But the project was not re-tendered; instead, Dutch company LievenseCSO was engaged by the Public Infrastructure Ministry to do the work.
A probe was also conducted by the Special Organised Crime Unit (SOCU) into the awarding of the $146M sole-sourced contract, with Patterson even submitting a statement to investigators. (G3)