Venezuelan military aggression
– to conduct 3, 4D surveys in southern Stabroek Block
After a harrowing encounter last year with the Venezuelan Navy, during which attempts were made to board it while it was carrying out seismic tests, Norwegian vessel Ramform Tethys has recommenced its seismic operations in the Stabroek Block on Exxon's behalf.
According to a notice from the Maritime Administration Department, this work would have commenced over the weekend. The department noted that the 3 and 4D survey would take place in the Southern portion of the Stabroek Block.
It is understood that the survey will conclude on April 12 of 2019. Besides the Ramform Tethys, two other vessels will take part in the operation. These vessels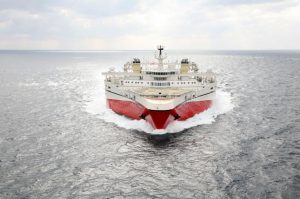 are the Thor Magni and the Delta Monarch.
According to the notice, these vessels will cover approximately 1,240 square kilometres of ocean in their data collection. While providing coordinates for the areas they would work, MARAD also warned local vessels to give these Norwegian vessels their space.
"These vessels will be displaying the international signal for such activities," the notice stated. "All mariners are requested to maintain a wide berth of these vessels and to navigate with caution when in the vicinity."
The Ramform Tethys is owned by Norwegian company Petroleum Geo Services, which was contracted by Exxon to do seismic tests in the block. The ship was reportedly forced to pack up shop and leave the area on December 22 when the Venezuelan Navy intercepted and tried to land a helicopter on its deck.
On December 22, ExxonMobil's local subsidiary announced it was suspending the 3-D seismic tests it started only a month ago in Guyana's Stabroek Block after the appearance and approach of the Venezuelan Navy caused the vessel to pack up shop and vacate the area.
The incident came at a time when Guyana has an ongoing territorial integrity case

with Venezuela. Since Guyana submitted its memorial on Jurisdiction to the International Court of Justice (ICJ) last year, a date was in turn set for the Venezuelan Government to submit its own counter memorial.
This was revealed during the 2019 budget debates by Foreign Affairs Minister Carl Greenidge. According to the Minister, April 18, 2019 has been set for Venezuela to submit its counter memorial.
When US oil giant ExxonMobil announced the first of multiple oil finds in local waters in 2015, Venezuela renewed its claim to two-thirds of Guyana's territory. Venezuela has been against oil exploration in Guyana's Stabroek Block, where multiple oil deposits were found by ExxonMobil, and has since renewed claims to the Essequibo region.
On January 30, 2018, Secretary General of the United Nations, Antonio Guterres, concluded the Good Offices Process – which the parties had engaged in for almost 30 years, but did not achieve a resolution to the controversy – and chose the ICJ as the next means of settlement, for which Guyana had long been advocating.