…events decentralised to all regions
The Social Cohesion Ministry on Monday announced its Mashramani activities for the 49th annual celebration, bringing the events to all parts of the country so that everyone can experience the Guyanese culture.
In rebranding Mashramani, 39 activities have been scheduled over the next six weeks to mark the Republic anniversary celebrations, held under the banner "Celebrate Mash 2019; With Victory in Mind – Rediscovering El Dorado."
Coordinator of this year's event planning, Andrew Tyndall gave a highlight of the schedule, noting that some $70 million will be expended this year and is somewhat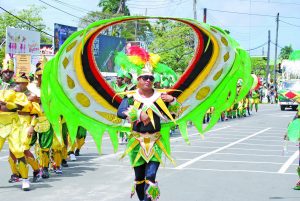 the same figure when compared to last year.
"Mashramani will be relevant as we Guyanese want it to be relevant. It's our culture…Mashramani is unique in Guyana. It's the only place you'll find this festival happening and so we have to improve what we present to the public," Tyndall expressed.
He acknowledged the major sponsors: Caribbean Airlines, Banks DIH, Republic Bank and Ansa McAl.
The events commenced on Saturday with an All-Stars concert followed by Steel band concert in Region Five (Mahaica-Berbice).
Over in Georgetown, Main Street will come alive every Friday with the Banks Main Street Lime, beginning on January 18. On January 19, another concert will be hosted, this time in Region Nine (Upper Takutu-Upper Esequibo).
Junior Calypso and Soca rehearsals will be held at the seawall in Georgetown on January 20. These rehearsals will be followed by Chutney and Soca rehearsals on January 27 and February 1 respectively.
A key event of the season which takes the form of the junior Calypso and Soca competition will be held on February 2 at the Bartica Community Centre Ground in Region Seven (Cuyuni-Mazaruni).
The adult Calypso rehearsals will be conducted at the sea wall in Georgetown on February 3. This will be followed by the Banks Calypso semi-final in Union, Number 53 Village Community Centre Ground on February 8.
On February 9, the Linden-Georgetown Municipal Bus Park in Region 10 (Upper Demerara-Berbice) will be rejuvenated with the Carib Soca Monarch competition.
Meanwhile a Chutney Dance Competition is expected to excite patrons over in Region Three (Essequibo Islands-West Demerara) at the National Track and Field Centre also on February 9.
The Bath Settlement Community Centre in Region Five (Mahaica-Berbice) will this year host the Chutney Song Competition semi-finals on February 10.
Other exciting events are expected to take place within the month of February including Children's costume and float parade at the National Park on February 16, the Carib Soca Monarch final, also on February 16 at the D'Urban Park.
This year the Masquerade Jamboree will be held at the Stabroek Square on February 21. The Flag Raising Ceremony will be hosted on February 22 to usher in the Costume and Float Parade on February 23. The Mashramani festivities does not end on February 23 this year as a Champions in Concert activity is slated for March 9, in Mahdia Region Eight (Potaro-Siparuni).
With regards to security, the Guyana Police Force in collaboration with the Civil Defence Commission has taken up the mantle of increasing security for the mash-bands and revelers.