Oil giant ExxonMobil on Tuesday handed over lab equipment costing in excess of US$40,000 to the Faculty of Natural Sciences at the University of Guyana.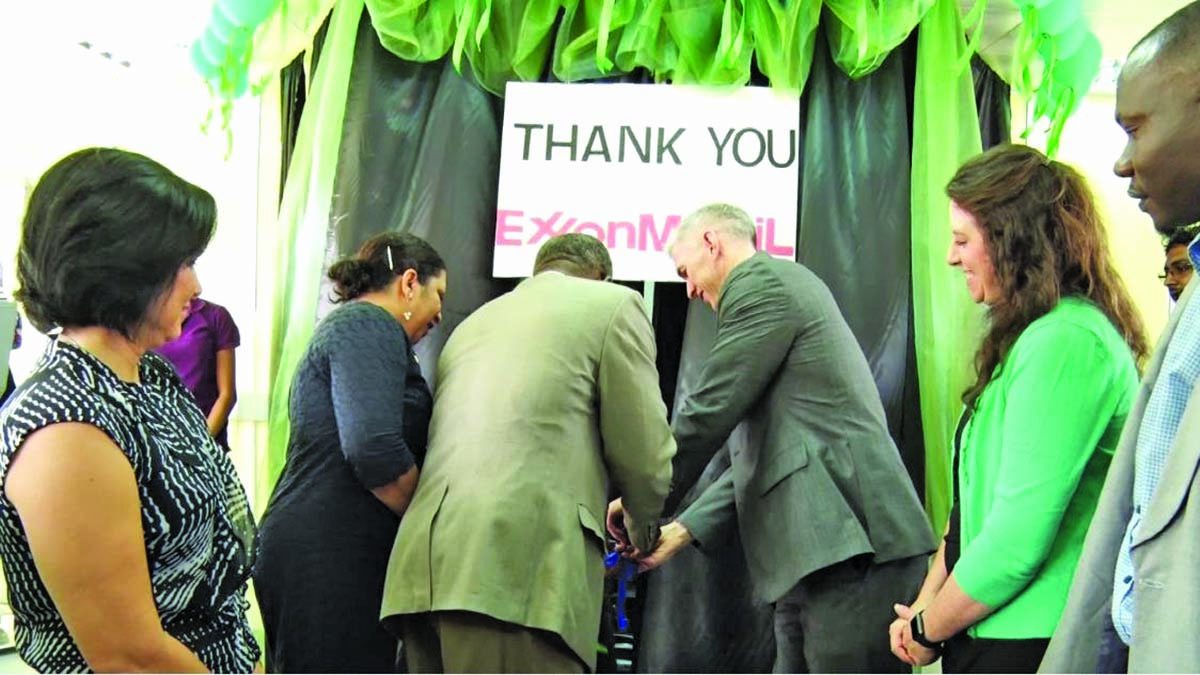 At the handing over ceremony at the University, it was revealed that the Department was able to purchase the new tools with a gift presented by the oil company.
The substantial gift was given to the University following a request made after a fire which occurred in 2015. The fire reportedly destroyed a section of the Faculty of Natural Sciences building which housed the equipment for various departments.
Among the items destroyed in the fire were all the Physics laboratory equipment belonging to the Department of Mathematics, Physics and Statistics, the Computer Sciences Department equipment and the specimen collections and equipment from the Department of Biology.
However these equipment and more were purchased with the aid of ExxonMobil. It was outlined that the faculty lost critical research materials in the areas of online education and information technologies, renewable energy technologies, biodiversity and ecosystems assessment and natural resources management.
However, the US$40,000 was given to aid the Department of Mathematics, Physics and Statistics in replacing the lab equipment that was destroyed.
Among the highly specialised equipment purchased was one Baader Multi-Purpose Coma Corrector, and one Orion XX 16G GO-TO Truss Dobson Ian Telescope among others. The equipment was purchased from two companies (PASCO and OPT) at a cost of US$37,071 and arrived in Guyana in September 2018.
According to the Dean of the Faculty of Natural Sciences, Calvin Bernard "After the fire, the physics programme was 'crippled' by the inability to deliver the quality learning experiences necessary for the success of the students due to the lack of equipment for practical work. Lecturers struggled to improvise and compensate."
He further stated that "With the new equipment, the quality of the educational experience in the physics courses has been lifted significantly. This is particularly important as the Faculty and University seeks to ensure it prepares graduates for roles in a more technologically advanced economy including oil and gas".
The Faculty is especially thankful to ExxonMobil for its contribution in making the recovery process possible. ExxonMobil was the first and only major corporate entity to offer assistance after the devastating fire.
Head of the Department of Mathematics, Dwayne Renville, extended sincere gratitude on behalf of the University, citing relief that the lab equipment was "finally here".
Deputy Vice-Chancellor, Professor Paloma Mohamed noted that "the University since 2016, through the Office PACE (Philanthropy, Alumni and Civic Management) has been building a strong relationship with ExxonMobil and their affiliates which includes strategic funding, capacity building and CSR collaborations".
ExxonMobil's Guyana President and Country Manager Rod Henson noted, "The youth today are our leaders of tomorrow, and education is fundamental to their ongoing development. We are pleased to provide this support to the University of Guyana and its students to further advance math and science learning today and in the future".