United States-based oil major, ExxonMobil Guyana said it is now examining its next steps following the recent ruling by the High Court in Georgetown that the oil company failed to uphold its insurance obligations for the Liza 1 project in the Stabroek Block offshore Guyana.
In his ruling on Wednesday, Justice Sandil Kissoon found that Exxon's local affiliate, Esso Exploration and Production Guyana Limited (EEPGL), was engaged in a "disingenuous attempt" which was calculated to deceive when it sought to dilute its liabilities and settled obligations stipulated and expressed in Condition 14 of the permit, while simultaneously optimising production in the Stabroek Block.
The Judge, consequently, ordered the Environmental Protection Agency (EPA) to enforce the liability clause in the Environmental Permit granted to the oil company for its offshore operations.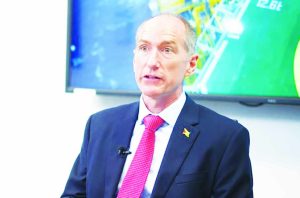 By an Order of Mandamus, the EPA was directed by the court to issue EEPGL with an Enforcement Notice on or before May 9, for the company to provide, within 30 days, unlimited Parent Company Guarantee Agreement and/or unlimited liability Affiliate Company Guarantee, together with Environmental liability insurance, as is customary in the international petroleum industry. Failing to comply would result in the suspension of the permit dated May 31, 2022, the Judge has declared.
On Friday, ExxonMobil Guyana said "We are reviewing the court's decision and evaluating potential next steps. However, it is disappointing that the court failed to appreciate and acknowledge the financial capabilities of ExxonMobil Guyana and its co-venturers to meet their obligations, the insurance we already have in place, and the progress towards agreeing to a guarantee that exceeds industry benchmarks."
"ExxonMobil Guyana and our Stabroek Block co-venturers have adequate and appropriate insurance and proposed guarantees in an amount that exceeds industry precedents and an estimate of potential liability," the oil giant further stated.
Only recently, it was disclosed that after almost one year of negotiations, EPA and EEPGL have completed a Parent Guarantee and Indemnity Agreement to the tune of US$2 billion in liability coverage in compliance with EEPGL's financial assurance obligations under the Environmental Permit and the Environmental Protection Act.
Appeal
Attorney General and Legal Affairs Minister Anil Nandlall, SC, disclosed that these negotiations and their material details were placed before the court for its consideration, but unfortunately to no avail.
Nandlall contended, in a statement after the ruling, that the Environmental Permit imposes no obligation on the Permit Holder to provide an unlimited Parent Company Guarantee Agreement and/or Affiliate Company Guarantee Agreement. He added that the Judge erred in his findings and this could have profound ramifications and grave economic and other impacts on the public interest and national development.
To this end, AG Nandlall indicated that the ruling will be appealed, a move which has been supported by Vice President Bharrat Jagdeo.
At a press conference on Thursday, Jagdeo argued that Guyana needs to ensure that local bodies are acting in a professional manner and not focused only on economic nationalism. He noted that while Government wants to ensure that there are adequate resources to cover the liabilities of any mishap, the country cannot be capricious in its dealings, particularly at the level of regulatory agencies.
"We have to pursue diligently, professionally that outcome, which is to get as a country an insurance coverage that will meet all the circumstances, should we have an adverse event offshore. [But] it's important that institutions act in that manner, in a professional manner because we are now attracting large volumes of capital from around the world. Eyes of the world are focused on Guyana and what could've passed in the past as economic nationalism would not hold water in the new dispensation," he posited.
According to the Vice President, the quality and professionalism of local institutions are important tenets to efforts of setting up Guyana as an attractive destination for more capital investments to transform the country and its people.
"So, our courts have to make predictable decisions – I'm not saying in favour of the Government or against the Government but it has to be well reasoned…"
"We're not going to take [the court ruling] in a manner that's hostile but we need to make sure that our institutions don't act based on economic nationalism or the peripheral noise out there. We're playing the big leagues now. We're not a backwater country where you can do whatever you want and get away with it. And for that reason alone, I think the decision should be appealed," Jagdeo contended.
The Vice President further maintained that EPA has to be able to professionally justify its work without any interference or any rush to complete its work within a set timeline that can pressure the agency.
"I think a lot of things were not understood clearly and sometimes it gets a bit complex. Here, this decision needs to be appealed by the EPA because it makes the EPA looks like it's not doing its work. The EPA is staffed with professionals and it's been doing its work, protecting the interest of the country… My own thing is the Judiciary can interpret maybe several issues… But I think it's threading on mirky waters when you start directing a regulatory agency as to how to do its own job and give them a timeframe to get it done in because you can't supplant yourself and know what the challenges they face are…," VP Jagdeo posited.
In September 2022, the President of the Transparency Institute of Guyana Inc (TIGI), Fredericks Collins, and Guyanese citizen Godfrey Whyte had moved to the court to get the EPA to implement the liability clause in the permit issued to ExxonMobil (Guyana) for its operations. They wanted the court to ensure EEPGL takes full financial accountability in the case of harm, loss, and damage to the environment from a well blowout, oil spill, or other failures in the Stabroek Block.