The future of an oil industry in Guyana seems even more promising with another oil discovery offshore Guyana announced by US oil giant ExxonMobil.
The company's 10th discovery was announced Monday by Director for the Department of Energy, Dr Mark Bynoe, who expressed satisfaction with the way things were going.
He revealed that the discovery was made at the Pluma-1 well. It has increased the estimated recoverable resource in the Stabroek Block to more than five billion oil-equivalent barrels.
The Pluma-1 well is located some 27 kilometres (17 miles) south of the Turbot-1 well and follows previous discoveries on the Stabroek Block.
"This is great news for Guyana … the country is on the cusp of transformational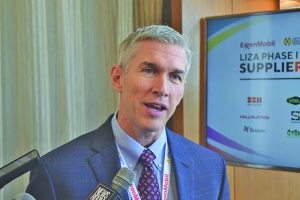 development for current and future generations," Dr Bynoe stated.
According to him, the news of this new discovery is expected to facilitate the country's realisation of substantial social and economic improvements.
It was noted that approximately 121 feet (37 metres) of high-quality, hydrocarbon-bearing sandstone was discovered by the Noble Tom Madden drillship
Drilling began on November 1, 2018, according to the company. The well was safely drilled to 5013 metres (16, 447 feet) in 1018 metres (3340 feet) of water. The previous recoverable resource estimate on the Stabroek Block was more than four billion barrels.
This discovery reinforces the potential of the country being able to produce more than 750,000 barrels of oil daily by 2025 and the potential for development in the south-east section of the Stabroek Block. The Stabroek Block is 26, 800 square kilometres.
Dr Bynoe added, "Guyana is well poised to truly forge ahead in the 21st Century. As a petro-development state, we will, however, need to strategically invest in a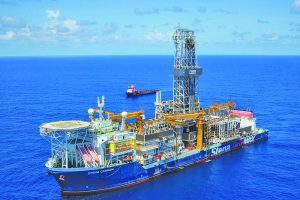 people-centred and balanced manner," he said.
ExxonMobil Country Manager Rod Henson, who spoke briefly of the new find, said this was good news and that it would add to the already huge finds encountered.
He told media operatives on the sidelines of an event, "This discovery will help Guyanese investors to invest capital and take some risk and take advantage for the opportunities."
According to the Ministry, the Noble Tom Madden is expected to begin drilling the Tilapia-1 prospect located some 5.5 kilometres (3.4 miles) west of the Longtail-1 well.
The Stena Carron drillship has recently completed operations at Hammerhead-1 and will soon drill its next well following scheduled maintenance.
Guyana is now home to the world's biggest new deepwater oil discovery. ExxonMobil has been keen to push development of the oil reserves. Production is scheduled to begin in 2020.