…after Parliament's live feed disconnected during Opposition presentation
…"total discrimination" – Teixeira
As the 2019 Budget debate started in the National Assembly just after 10:00h on Monday, tension erupted as members of the House argued over whether or not the parliamentary live stream began when the first speaker, Irfaan Ali, was making his presentation amid concerns the Opposition's views were not being fully represented.
High drama unfolded when Speaker of the National Assembly, Dr Barton Scotland informed Opposition Member of Parliament (MP), Priya Manickchand that recording from where members sit was not permitted.
She, however, maintained her stance that Government's media agency, the Department of Public Information (DPI) was not providing fair coverage of the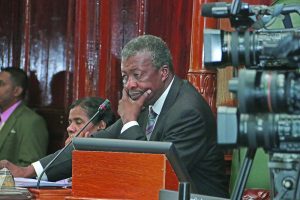 Budget, particularly as it relates to the views and opinions of the Opposition. Manickchand defended a live stream of Ali's speech with her mobile phone. Ali is the chief spokesperson on economic and finance matters for the parliamentary Opposition, and is the Chairman of the Public Accounts Committee of the House.
"The Department of Public Information, which is funded by the people of the country, is not carrying the views of the Opposition members… [it] amounts to not carrying the views of the people of this country," she noted.
Following the Speaker's upbraiding for the use of recording devices, which he said was against the rules and practices of the House, Opposition Chief Whip Gail Teixeira pointed out that the parliamentary live stream was interrupted when Ali was giving his speech, but was up and working when Business Minister Dominic Gaskin was ready to make his presentation. When Gaskin first attempted to speak, he said all debates were available for review on Parliament's website, but the Speaker instructed that he focus on the matters concerning the Budget debate.
"There has been no live streaming of the opening speech by the Opposition lead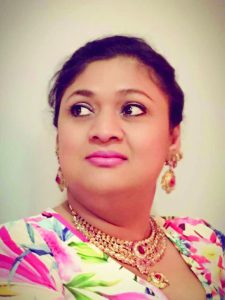 by Irfaan Ali, it is only now when a minister is speaking that the live streaming has started. This is the point about discrimination we are talking about in this place – total discrimination," Teixeira expressed with great vociferousness.
The Speaker, however, advised the Opposition that the live stream started from the beginning. After the brief display of tension, Gaskin was allowed to make his presentation, but in a social media post Manickchand pondered why Government would not want the public to hear the People's Progressive Party/Civic's point person on finance.
"What is the wrong I did? If you look at the video you will see that it was when Mr Ali was speaking of corruption and mismanagement in the Education Ministry, that Nicolette Henry and Simona Broomes complained … one would have thought these two young women would be of the generation and mindset that would want to have the people's business made as available to the people as possible… Free speech includes not only speaking but communicating those views and ideas to whosoever wishes to listen," Manickchand posited.