Budget debates
– as Opposition slams APNU/AFC for "tasteless" budget
The first day of debates on budget 2019 featured several tumultuous exchanges, with the Parliamentary Opposition making strong calls for the Government side to lay over evidence of the "good life" it has been providing to areas like the hinterland region.
In her presentation, Opposition Parliamentarian Yvonne Pearson questioned the perceived lack of development in the hinterland, as well as the lack of progress in Amerindian land titling. She reminded Indigenous People's Minister Sydney Allicock of previous promises that he would look at land titling through "Indigenous eyes."
"I wish to remind the honourable Minister Allicock, who failed to deliver within three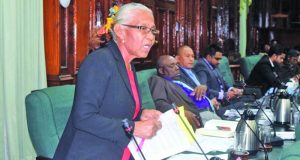 years the Amerindian Land Titling project, I wish to remind you of the 29 April 1999, when we were all gathered, you said the Government should look at Amerindian land issues with Indigenous eyes, and not political eyes.
"These were things that were said, and I wish to remind the minister and to ask him which eyes (is) he looking at Amerindian land issues with?! Is it the political eye or the Indigenous eye, because I read recently that he is now eyeing a four-year extension! (One) can eye many things, but what will become a reality?"
The Amerindian Land Titling Project, which commenced in 2013, sought to enable the Indigenous peoples to secure their lands and natural resources with a view towards sustainable social and economic development.
It is expected that titling and demarcation will strengthen land tenure security and the expansion of the asset base of Amerindians, thus enabling improved, long-term planning for their future development.
A total of 68 Indigenous villages were targeted (land titling/demarcation and extensions) across the hinterland, with 20 demarcations and 18 titles completed in villages to date.
Meanwhile, Pearson also lambasted the Government side for making a mockery of social cohesion. She referenced the controversial remarks made by Public Health Minister Volda Lawrence, in which she declared her preference for giving jobs to fellow party members, and noted that such remarks are not what are expected from social cohesion.
She called out Social Cohesion Minister Dr George Norton, noting that his efforts at bringing the nation together must start on the Government side. Her mention of Lawrence's statement touched off heckling from the Government side, as they closed ranks in support of their colleague.
Her criticisms were supported by Opposition Parliamentarian Nigel Dharamlall, who pointed to the palpable decline of traditional sectors, like gold. It was only days ago that Finance Minister Winston Jordan announced that 2018 saw a drop in gold declarations from small and medium scale miners, affecting the overall production figures.
"Everywhere you go, every single miner you come into contact with cry out that their roads are not repaired, their bills cannot be paid," Dharamlall said. "Their equipment cannot be repaired, and their machinery cannot be maintained.
"The oil sector is now before us. We are 12 months before our first drop of oil is produced. Exxon only today announced that we now have 5 billion barrels of oil. To date, Guyana does not have a local content policy. How will the country benefit? To date, there is no sustainability plan for how oil revenues will be used to develop our country. Today, we are unprepared to even audit the (cost oil)."
The specific criticisms of these two MPs went largely unanswered by the Government side, as Junior Ministers of Communities and Public Health, Valarie Patterson-Yearwood and Dr Karen Cummings respectively, concentrated on delivering their respective sector performance from prepared speeches.
Government Parliamentarian John Adams praised allocations in the budget for works in Region Three, his geographical constituency. He lauded coalition measures like the David G bus service. According to the MP, this service can reach all school children. He even went further to say that if children aren't on the bus, it's because they don't want to be on the bus.
Government Member of Parliament Michael Carrington meanwhile argued that the 2019 budget meant improvement in living standards for Guyanese, as well as infrastructural development.
"This 2019 budget lays the foundation for the take-off in big-ticket infrastructure projects. We are laying the basis for proper housing, quality healthcare, improved education standards, better security; and, above all, a cleaner image of Guyana in all respects," the MP said.