After an inactive period of almost two years, the Guyana Hockey Board has finally received the green light to resume local hockey competition at the Cliff Anderson Sports Hall (CASH) albeit with strict COVID-19 guidelines.
Players are keenly prepped for exciting competitions which will see three divisions – the men's, women's and Second-Division men – being contested. Since it was impossible to host the annual Diamond Mineral Water Festival this year owing to COVID-19 challenges, ExxonMobil, who is usually a co-sponsor for the event, has generously stepped in to support the Guyana Hockey Board with this effort, as the ExxonMobil National Indoor Hockey Championships.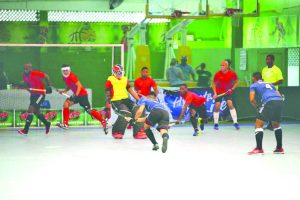 Six men's teams will contest the men's First-Division competition. These include the most recent national champions, the Pepsi Hikers; YMCA Old Fort, Bounty GCC, Saints, Guyana 40s, and 50 Not Out. Apart from the regular cub sides, this year features two new team entrants comprising players preparing to contest the Indoor Masters World Cup in February 2022. Guyana 40s will be made up of players 40 years or older, including Robert Fernandes, Chris Low, and Devin Hooper while 50 Not Out is the selection of players 50 years and older including the likes of Dexter Wyles, Damon Woodroffe, and goalkeeper Allan Newark. These two teams comprise mostly former national players and, while the young energetic men's teams are likely to be difficult to overcome, these two first-time entrants promise some entertaining matches of youth versus experience.
The women's competition will feature many of the players who gained international experience this year at the Indoor Pan American Cup. Five teams will make up this competition, with three being from the core of national players – the GBTI GCC Ignite, GBTI GCC Spartans and the GBTI GCC Roulette.
Aliyah Gordon; Marzana Fiedtkou and the Xavier sisters, Gabriella and Alysa, are likely to be key players for these teams while promising juniors Sarah Klautky, Madison Fernandes, and Aosaide Cadogan will have an opportunity to showcase their improved games after international competition this year. Saints has been the fastest improving side, with young breakout star Clayza Bobb expected to lead their attack while the Misfits will be mixing youth and experience under the leadership of former national player Maria Munroe.
The men's Second-Division competition will comprise six teams – YMCA Old Fort, Saints Sensations, Saints Scorpions, Hikers Cadets, GCC Pitbulls, and GCC War Dogs.
The competition began on Monday, November 29 and will run until Sunday, December 5, with the finals beginning at 16:00h.