As extraction of the first batch of crude continues in the Liza field in the Stabroek Block offshore Guyana, President of ExxonMobil's Upstream Oil and Gas, Liam Mallon has lauded the unprecedented pace of the country's petroleum sector from discovery in May 2015 to first oil in December 2019.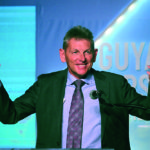 He was at the time speaking at a reception organised by ExxonMobil, the Department of Energy and co-ventures at the Marriott Hotel on Friday evening to commemorate first oil. The reception was followed by a spectacular display of fireworks.
According to Mallon, persons do not fully appreciate the progress that has happened over the past five years. He pointed out that milestones like this rarely come around and as such, urged stakeholders to dwell on this unique opportunity.
"The reality is if we had met average industry performance, do you know when we would've been celebrating this event – 2014, we would've been celebrating this event. The average time in water of this depth from discovery to first oil is nine years. This was done in five," he stated.
Mallon went on to say that not only was first oil achieved in five years, something which he credited to the Guyanese people and Government as well as its partnership, but it was done safely, and more importantly, it was done below the cost initially anticipated.
"That directly benefits the partnership and benefits the Government. Five years, below cost and safe. I don't think we could ask this great team of people to do anything more than that," he posited.
The Exxon Upstream President further noted that in addition to having a strong team, taking well-managed risks also contributed to the success thus far.
"When we decided it was ready to go first oil, it was less than three years – we said to our project team, you have to do this in less than three years. It can be done! I know the industry benchmark is double that but we put people on the moon, we can put first oil in Guyana in three years. You've got to set an aspirational goal and this team has more than stood up to that… you have to take well-managed risks," he contended.
However, Mallon posited that the company and its partners significantly exposed themselves to financial risks but were confident that they would be successful.
"This is a risky business. We made decision to proceed with two wells – that is rare. We put significant money on the ground on the basis of what we knew based on early information… Our company, HESS/CNOOC took significant financial risks on the basis that we would make this happen. This is an uncertain world, you really don't know until you get well down the path. That's what we bring to the table and I'm very proud…," he noted.
According to Mallon, this aspirational milestone is just the start of many more things to come. He added that he is looking forward to celebrating many such milestones with Guyana.
Meanwhile, Public Security Minister Khemraj Ramjattan, who is performing duties of Prime Minister, in brief remarks posited that this rare milestone is one of national pride and upliftment. He praised Exxon for taking the risks to fulfil one of Guyana's greatest potentials.
Friday night's grand reception was attended by Government Ministers, senior Government officials, members of the Diplomatic Corps, stakeholders in the petroleum industry and special guests. However, it was boycotted by the Opposition People's Progressive Party (PPP).
Boycott
The party had criticised the hosting of the event, labelling it a waste of taxpayers' money especially since Guyana is yet to receive any payments from the oil lifts.
In fact, in a statement on Friday evening, Executive Member of the PPP/C, Gail Teixeira said that this hosting of the reception is an indication of how the incumbent coalition intends to use the oil revenues, that is, on extravagant things.
"The issue is that Guyana as a nation and its people are not benefiting and will not benefit for quite a while… Tonight, whilst everyone clinks glasses and look at the fireworks in the sky, we should remember that… before we even ascent in revenue, we owe over six billion dollars [in pre-contract costs and in oil revenues]," she stated.
Nevertheless, Teixeira went on to outline some of the plans that the PPP intends to implement should it get into office come March in order to streamline the oil and gas industry. This includes better contract administrative negotiations and criminalising non-disclosure of oil revenues as well as redo and strengthen the legislative framework for the Sovereign Wealth Fund (SWF) and streamline a Local Content Policy.