Guyanese fashion icon, author, and entrepreneur Sonia Noel will host "Women Across Borders" between July 7 and July 10 virtually via Zoom as she presents three anthologies featuring empowering stories of Caribbean women from various backgrounds.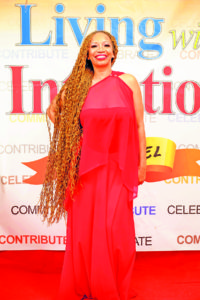 The anthologies – Fulfilling Purpose, With a Mission and Rising from the Ashes were compiled and published in 2018 and 2019.
The captivating stories are of women from Guyana, Trinidad, St Lucia, Antigua, Suriname, French Guiana, Venezuela, Africa, and the United States.
These phenomenal women are from various ethnicities and careers but have a common characteristic –a heart for humanity. The inspiring journeys from 27 courageous co-authors serve to remind their readers that no matter where you are from, challenges are inevitable.
"Initially, I was apprehensive about writing, but became very enthusiastic during the process as I shared my voice and claimed ownership of my life.  Between 21:00h and 1:00h was the time I was most creative and the words simply flowed as I told my story. I felt fulfilled and grateful for the experience to collaborate with some phenomenal women on the project," said Dr Desiree DeFlorimonte, who is Guyanese but resides in the USA.
The other co-authors are Dr Jackie Evan Philips, Alizé Utteryn, Jacque Phillips, Tavie Hunte, Roshini Boodhoo Persaud, Dr Latoya Gooding, Bethany Love, Christine Neblett, Linda Felix Johnson, Chan Tale Flood, Isabellee, Essenese Sambury , Ediclia Basdardo, Dr Hilda Bournes, Jaymie Bowles, Shanon Paar, Slyvia Diane Ward, Lynette Laveau Saxe, Walerine Mc Leod, Dr Colleen Bovell, Renneann Hodge, Phillipa Morrish, Nateica Garraway and Dr Safeeya Mohammed.
Caribbean fashion evangelist Richard Young was the creative director and editor for this project.  He professes: "I believe in authentic testimonies as our way of forging and crafting our identity branding, so important to unearthing and discovering our independent sense of self, our national sense of pride, and our regional sense of integration. These revelations are psyche-shifting and life-altering to all who experience them."
The unique covers were the output of two talented Guyanese creatives. The memorable ?façades were? designed by graphic developer Shiv Dindyal, from an original painting done by visual artist Compton Babb.
Forewords were done by three outstanding contributors: 1) the first African-American to anchor a newscast on WJTV, a CBS affiliate – Dr Elayne Anthony from Jackson, Mississippi; 2) the CEO and founder of A Company of Women – Dr Linda Wallace; and 3) the founder of Global Women Media – Dr Anna Mc Coy.
The virtual event will feature these amazing women sharing their riveting stories, intentionally fashioned to motivate the audience and to instil in each of us the desire to pursue the best version of ourselves.
The event will be hosted on Zoom from 07:30h to 21:00h and will be streamed via Facebook and on NCN Radio in Guyana, NIO FM Suriname, Caribbean Power Jam in New York, and on CBN Radio (90.9FM) in the British Virgin Islands which covers BVI and USVI.
This event is timely, seeking to motivate persons affected by the global pandemic ?across borders?.
Maya Angelou once said, "There is no greater agony than bearing an untold story inside you" and taking this lead, Noel has realised one of her dreams.
She says, "It was an absolute? honour to witness so many compelling stories birthed. One of the main objectives for these anthologies is for these women to realise they all have significant stories that can impact the world. I am elated that some of the ladies went from a chapter to scripting their own books. I am super excited to host this virtual event, because the reach can be wider and the impact even more tremendous, God's willing."
Shanon Paar from Arizona contributed her chapter to Rising from the Ashes: "Today, I see the light so to speak, because of how many people I could touch through my stories. Some say I am a late bloomer, while that may be; some things are better left in the desert until they are ready to bloom."
Interested persons can register for free on the Women and Men Across Borders ?FB pages https://www.123formbuilder.com/form-5498865/
The books can be found on Amazon in English, Spanish, and French in e-book form and hard copy.