A 45-year-old garbage collector was on Tuesday morning killed following a two-vehicle collision along the Montrose, East Coast Demerara (ECD) public road.
The dead man has been identified as Zameer Isfehani of Lot 12 Leonora, West Coast Demerara. He was employed with Puran Brothers Garbage Disposal.
Based on Police reports, Isfehani was standing at the rear of the garbage truck when a speeding motor lorry bearing registration number GWW 9841 slammed into him. He reportedly suffered severe injuries to his body and would have died instantly.
In addition, the driver of the lorry, a 52-year-old resident of Hill Foot, Soesdyke-Linden Highway, reportedly suffered a heart attack, while the porter, a 46-year-old resident of Kuru Kururu, Soesdyke-Linden Highway, suffered a fractured leg.
They were both pinned in their vehicle and had to be wrenched out of the wreckage by members of the Guyana Fire Service.
However, at the home of the dead man, the family was in a state of shock at the manner in which the father of five met his demise. His wife, Naseefa Khan, was inconsolable and could not speak with the media.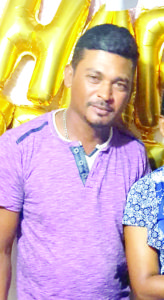 Nevertheless, the dead man's eldest son, Mahesh Isfehani told this publication that he was at home when he received the news of his father's death.
"This morning I get a call and meh sister tell me something happen to meh father. When me get fuh hear everything, them tell me he reached in an accident…meh father didn't have to die like that…my father was a good man," the son expressed.
The young man stated that his father would usually leave for work early in the morning to avoid the traffic congestion at the Demerara Harbour Bridge.
However, the man's son said it is quite unfortunate that his father would not be returning.
"I feel like meh heart bruk fuh see meh father in dah condition."
The man's son stated that his father had plans to rebuild their home so that his family would be able to live more comfortably. The man leaves to mourn his wife, five children and other relatives.
An investigation has been launched into the deadly smash-up.