Team Wreckers' Adrian Fernandes copped the 2018 champion driver accolade for the Endurance series at the Guyana Motor Racing and Sports Club (GMR&SC) awards ceremony, which was held on Tuesday evening at GT Motorsports on Thomas Lands, Georgetown.
After an undefeated year with his Toyota Levin, Fernandes scored 75 points to be crowned the overall champion driver, while Balram Ramdeo with 228 points was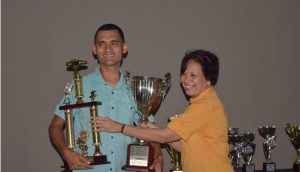 deemed the best mechanic.
Last Sunday, Fernandes and team amassed a total of 86 laps over two hours of driving at the South Dakota Circuit in the final round. His team edged out Motilall Deodass, who finished just one lap adrift of the winners in the overall as well as 1501-1600cc class.
Team principal Anand Ramchand said his team worked overtime to ensure they remained champions.
In the Unlimited category, Romeo Singh with 43 points was the champion driver, while in the 1601cc-2000cc class, Roshan Ali and Shan Seejattan had a tie of 25 points with Syed Hassan, Mohamed Ali and Rameez Mohamed.
Rameez Mohamed, who happens to be the incumbent President of the GMR&SC, was given a special plaque for setting a new Outer Circuit record of 1 minute, 17.026 seconds. Driving his Honda Civic in the Unlimited class, he was able to break a record, which was set by Eric Vieira back in 1972.