The Festival of Lights ended on a sour note for five persons in Grove on the East Bank of Demerara after their home was destroyed by a fire of unknown origin, which began at approximately 20:15h on Saturday.
The home was reportedly rented out to upper and lower flat tenants.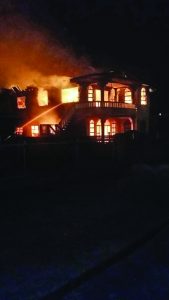 According to the lone resident in the upper flat of Lot 214 Section A, Block Y, Grove, Troy Looge, he was returning home when he noticed the roof of the home was ablaze.
"My landlady call me to collect some fish, and I left to go to Campbell Street in Grove around quarter to eight and come back around eight thirty and see the house on fire," he said.
Looge stated that he was unsure of how the fire began.  "I usually leave the windows open, so I don't know if the squib shoot and go in the bedroom and land pon the bed and the fire start," Looge speculated.
One of the tenants from the lower flat identified as Marlin Alec, stated that she and her daughter were not at home at the time of the fire. However, the two young men who were at home told firefighters that they heard pots and pans falling in the upper flat.
Eyewitnesses at the scene stated that the first fire truck to arrive came without water, and a second one was called in.
Meanwhile, this publication was informed by firefighters at the scene that it seemed as though the fire started as a result of negligence, as diyas were apparently lit and left unattended at the home.
It was also disclosed that the fire began at the back of the upper flat of the home, in the kitchen. Firefighters also mentioned that the area smelled of a gaseous substance.
At the scene, arson was ruled out since according to the firefighting officials, the home was "well secured".
Furniture and other household items from the lower flat were salvaged; however, nothing was saved from the upper flat of the house.