– husband hospitalised
A couple from Onderneeming Sandpit, Region Two (Pomeroon-Supenaam) are currently homeless after a fire of known origin completely destroyed their 30×20 flat concrete two-bed home.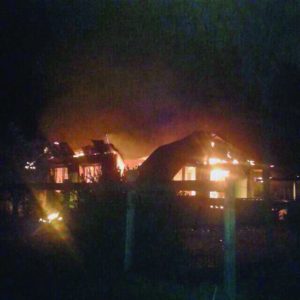 According to information reaching this newspaper, the pensioners ran out the back door to escape death.
The occupants are Tom Leondail, 76, and Kuntie Leondail, 76 of Lot 1012 Onderneeming Sand Pit, Essequibo Coast. The fire reportedly occurred between 18:30 and 19:00h Sunday.
Information revealed that around 18:30h the wife left her husband sitting in the hall and went to the kitchen to have dinner. Around 19:00h the pensioner told his wife he was smoking a cigarette and it fell onto the chair and a fire started. The couple could not help the situation and ran out the home.
The husband received minor burns to both hands and lower back. He is presently hospitalised at the Sudden Public Hospital. His condition is listed as stable.
Details of the fire are still sketchy but it was learnt that the Anna Regina Fire Station has launched an investigation. They were alerted about the incident by the couple's neighbour, however, by the time they arrived the house was completely gutted.