An early morning fire on Wednesday has left three Chinese nationals homeless after the blaze of unknown origin ripped through the two-storey building which housed the supermarket at La Bonne Intention, East Coast Demerara.
The Chinese-owned building, which housed the A and R Supermarket went up in flames at about 05:00h.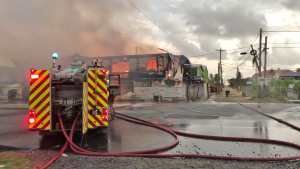 Speaking with Guyana Times, Fire Chief Marlon Gentle said that while an investigation has been launched to determine the origin of the fire, officers are also probing reports of two occupants being confined to the building.
"We are investigating reports that the male occupant of the supermarket would've locked the other two occupants in the building…and the persons were in some level of difficulty to get out because nobody could've found keys or anything until he arrived to open up," the Fire Chief said.
The Fire Chief has since disclosed that even though the two persons eventually escaped a fiery death, the Guyana Fire Service is still to locate the man who locked the duo in the building.
"We've so far been unable to get to him for some questioning, we're still trying to locate him….we cannot locate them so far but we are still searching," he stated.
According to Gentle, the Fire Service received the distress call at about 05:10h on Wednesday morning, after which three fire brigades were dispatched to the scene.
Upon arrival at the scene, units reported intense fire conditions as the building was completely engulfed in flames which was already spreading to two other adjoined buildings.
Reports are the firemen were able to bring the blaze under control and prevent it from causing further damage to the nearby businesses.
"The fire service received the call 10 minutes after five this morning, and we dispatched three units from the three Georgetown stations, that is Campbellville, Alberttown and they were further backed up by the Central Fire Station…..the tactics we use were very strong and it was successful in cutting the fire off, preventing further damages," he affirmed.