…arson suspected
A fire suspected to be the work of an arsonist completely gutted Benjamin's Bakery at Buxton, East Coast Demerara in the wee hours of Monday.
The fire, which started about 01:30h in the office area of the Lot 133 Middle Walk, Buxton business place has resulted in millions of dollars in losses and close to 76 employees being without a job.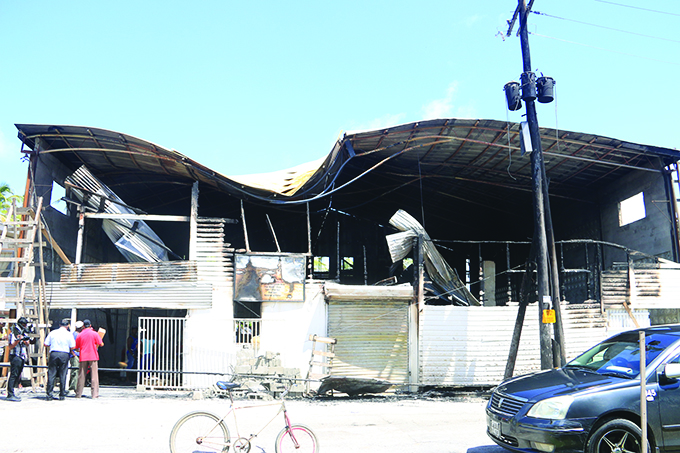 Reports are the business, which was in existence for more than 15 years, was at the centre of a land dispute currently engaging the attention of the High Court. On the morning of the fire, the front door of the bakery, which was locked by the last employee when he left on Sunday afternoon, was open, as was the back door. Further, the building had no electricity supply. Taking into account those two factors, the owner, Westley Benjamin, who was at the scene later on Monday, is of the belief that someone purposely set the premises on fire.
He explained that he was in Berbice at his other Bakery when he received a telephone call from an employee who informed him of the blaze. By the time he arrived at the scene, the fire fighters had already put out the blaze.
Benjamin, who sat with his workers contemplating their next move, explained that the fire was being treated as arson and the Police were working feverishly to apprehend those involved. He added that the fire officials were expected to return to the scene to further investigate the matter.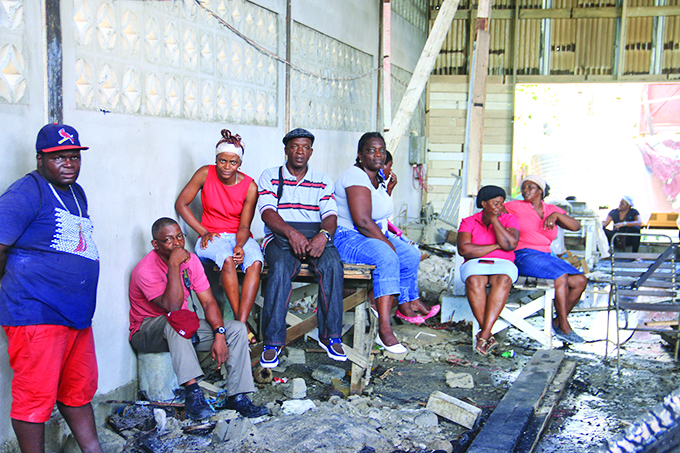 Nevertheless, the businessman is expected to recommence operations as soon as today. "The next move is to bring the staff in, get this place clear up and try to get the place up and running as soon as possible… they will come to work as usual and get a salary by the end of the week. We will pay them and that is what we're hoping for," he stated.
While he could not estimate his losses, they are expected to run into the millions, he said. One of the bakery trollies, he noted in listing the items that were destroyed, cost US$700; the aluminium sheets cost US$40 each; the slicers another sizeable sum.
However, the four ovens, which cost $10 million each, were only slightly damaged. He related that at present, he is not looking at losses, but is hoping that his business gets up and running.
Meanwhile, he thanked members of the community who assisted in putting out the blaze. Furthermore, he noted that the Guyana Fire Service responded well to the distress call.
"I was told that after the fire engine arrived, they started to contain the blaze to one building… they did not have a problem with water, since the trench was close by," Benjamin said.
He now leaves the Guyana Fire Service and the Guyana Police Force to investigate the matter thoroughly, and is hopeful that the perpetrator can be brought to justice.