– at Dolphin Secondary School
Scores of persons turned up at Dolphin Secondary School during the early hours of Friday, to take advantage of the free medical outreach hosted by Arms of Care International in collaboration with Freedom Life Ministries and the Public Health Ministry.
The outreach which commenced at 09:00h, saw a team of internationally-based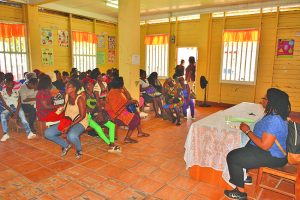 doctors complemented with the assistance of local medical personnel from the Health Ministry, conducting a series of primary healthcare services, inclusive of eye testing, screening for hypertension and diabetes, among other common illnesses.
Melanie Morris, member of the Co-coordinating Committee expressed her delight in being a part of such an initiative while highlighting the aim of the outreach. She related that the main aim of the church is to be able to give back to the community and when Arms of Care International sought partnership, the church, according to her, jumped at the opportunity. Freedom Life Ministries is no stranger to executing benevolent works around the Charlestown community.
Georgian Family Physician, Dr Sylveria Olatidoye explained her first experience in Guyana as "exhilarating", while adding that there is much need in the medical sector.
"We're offering diabetes screening, blood pressure checks, asthma evaluation and general medical checkups. We also have an eye department where we are doing vision screening; hopefully we will have an ophthalmologist tomorrow to do vision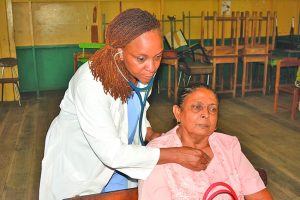 checks…" the doctor said.
Meanwhile, founder of Arms of Care, Dr Michael Obiekwe disclosed the reason behind his foundation's decision to visit the jurisdiction, while relating that the programme is part of an international outreach.
According to the doctor, Arms of Care was started 40 years ago in Georgia, USA, and their decision to come to the country owed largely to an existing partnership with the Freedom Life Ministries, which communicated to them, the needs of the Guyanese community.
He was optimistic to continue collaborating with local organisations to have the programme executed on a regular basis, so as to assist persons who cannot afford medical care.
Guyana Times was told that while the primary objective of the outreach is to offer medical support, counselling services are available to persons in need, as to ensure the mental well-being of individuals. In addition, free eye-wear and wheelchairs are available for qualifying patients.
Beneficiaries of the exercise expressed their gratitude and deemed the programme a success in light of costly health care in Guyana. However, one person suggested that the outreach be better organised on the next occasion, as to guarantee that persons who arrive first be serviced accordingly.
"Some people show early in the morning and the doctor can't see them till now… they should have waiting cards the next time to avoid the confusion", one person stated.
The two-day affair which is open to the public commenced on Friday morning and spans until today from 09:00h–17:00h. Meanwhile, persons are encouraged to visit the Dolphin Secondary School on Broad Street, Werk-en-Rust, Georgetown.