First Lady Sandra Granger on Tuesday encouraged a group of young people of Cuyuni-Mazaruni (Region Seven), to take Information and Communication Technology (ICT) seriously and to utilise it as a tool for developing the region.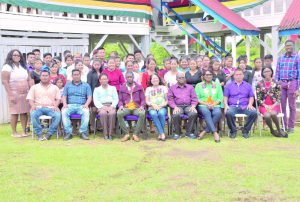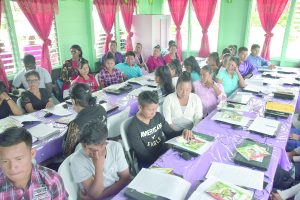 She made these statements in her address at the opening of her ICT workshop, held in the Education Boardroom at Kamarang.
"You have to prepare yourself as the young people who will inherit this country to be always learning… I want you to recognise also, how serious we are about this programme… It is a time for you to learn and also to build networks among yourselves so that you can plan how you are going to move forward and you can move forward and hopefully gain some money," the First Lady said.
The First Lady cautioned the participants that although there is much excitement and anticipation about the oil and gas sector, there are several other avenues for earning.
"Everybody is excited about oil and gas, but I want you to remember, not everybody [should] be going into the oil and gas industry, people who are working in the industry have to be fed, they will need services, so you could focus on agriculture… How do you set up the systems where you could move your produce from farm to airstrip, to Georgetown or wherever it is?" she said.
Former Vice Chairman of Cuyuni-Mazaruni, Norma Thomas, speaking on behalf of the Regional Chairman, Gordon Bradford, commended the First Lady for holding the ICT workshop in the region.
"Thank you so much. Let's continue this way… We want such leaders that are action people, like the First Lady, who has put everything in place," she said.
A participant, Barbalee John, is thankful for the knowledge that she will get from the training.
"I think it is helpful… I can teach the children how to use a computer… [and help] with typing and so, to do records…these days people want computerised work and I think in that way I can help," she highlighted.
Senior Technical Officer of the Board of Industrial Training, Rondell Jordon; Regional Vice Chairperson, Olinda Kyrenhoff-Griffith; Toshao of Kamarang, Clifford Melville and Vice Toshao, McNeil Reid also attended the ceremony.