First Lady of Guyana, Arya Ali has lobbied the Guyana Shore Base Incorporated (GYSBI) to examine the possibility of hiring differently-able persons, in efforts to enable equity for all cross-sections.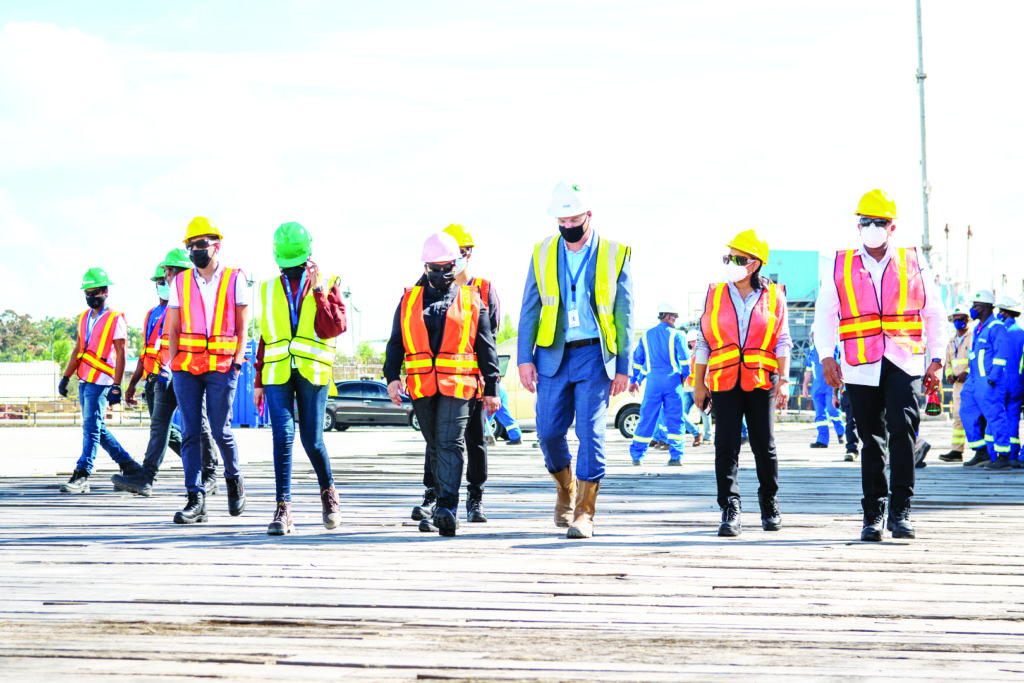 She made this appeal during a tour of the Houston facility, on the East Bank of Demerara (EBD), in an effort to better understand the work of some stakeholders in the oil and gas sector. The First Lady is of the view that Guyana's development is being accelerated partly because of its emerging oil and gas sector, and for this reason, Guyanese must familiarise themselves with the work of these companies.
Ali used the opportunity to lobby the company's General Manager, Sean Hill, to examine the possibility of hiring different-abled persons. The First Lady recently procured a list of differently-abled persons who are seeking employment and has been pushing for private companies to employ some of these persons.
In response, commitment was given to examine the list of differently-abled persons, and where the possibility exists, to employ some of them.
GYSBI provides specialised shore base management and integrated logistics services for operators in Guyana's Petroleum Industry. During that presentation, the First Lady asked about the company's commitment to environmental regulations and local content.
Hill explained that GYSBI honours its obligations to protect the environment and reduce its carbon footprints. He also disclosed that 94 per cent of GYSBI staff are Guyanese, and in the coming months, more Guyanese will be employed at the company.
Adopting orphanage
Ali also managed to acquire the company's assurance of adopting an orphanage, in keeping with its corporate social responsibility. In December, the Office of the First Lady will launch a pilot project which aims to get private companies to adopt an orphanage. The aim of the initiative is to ensure that these orphanages are adequately funded to care for the children who reside there, and to compensate the staff.
Days ago, the First Lady kick-started the Kingston Beautification Project following a meeting to identify sections of the seawall that needed immediate restorative works. The development of the seawall, stretching from Kingston to Vlissengen Road, forms part of the First Lady's National Beautification Project.
After providing an overview of the project, the First Lady identified several issues that require urgent intervention. These include: vagrancy, improved lighting, improved solid waste collection, increased security, washroom and solid waste disposal facilities, a freshwater source, and regularisation of vending.
Once these issues are addressed, phase two of the project will involve landscaping of the area, restorative works to the Police Bandstand, and repainting of the seawall itself.