Cricket West Indies (CWI) Chief Executive Officer (CEO) Johnny Grave has said the first three rounds of the Regional 4-Day tournament are set to bowl off in Barbados in February 2022.
Grave made this disclosure on the most recent Mason and Guest radio programme.
"The plan is for the West Indies 4-Day Championships to restart in February, with teams hopefully travelling. Playing three rounds would be three teams at home, and three teams would travel, and then reverse that for the second round. COVID-19 is still here amongst us, and we are not going to get ahead of ourselves", he said.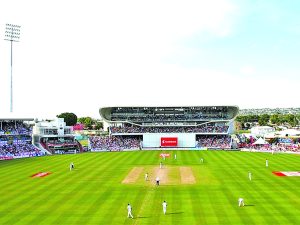 "The current plan is that defending champions Barbados will be playing at home in February, and that is based on the amount of cricket we got throughout the region," Grave explained. He added that the current plan is that Windward Islands, Barbados and Jamaica would play at home; with Guyana, Trinidad & Tobago and the Leeward Islands travelling for the first three rounds, and then the other rounds would split Guyana, Trinidad, and either St Kitts or Antigua playing at home.
CWI Director of Cricket, Jimmy Adams, had confirmed the restart of the 4-Day season earlier in the month, and five rounds are being proposed. However, with the recent developments, more than five rounds would be possible.
"We have recommended that we start Four-Day cricket at the last week in January/early February next year. It is desperately time for us to get Four-Day cricket in the region for more than one reason. At a minimum, we want to play at least five rounds, which would be half of what we normally play; that is a starting point. Ideally, I would love to get ten rounds of first-class cricket in, but starting with that," Adams said in a recent Mason and Guest programme.
In March 2020, the pandemic brought the Four-Day Championship to a halt with two rounds remaining, and, as a result, Barbados Pride were declared the winners, thumping the Guyana Jaguars. (Brandon Corlette)