…DoS Ninvalle tells Pan Am Games-bound Guyanese athletes
Prior to their departure for Colombia on Tuesday evening via the Cheddi Jagan International Airport (CJIA), the Pan Am-bound Guyanese athletes were given words of encouragement by Director of Sport (DoS), Steve Ninvalle, who left them with this charge: "Do your best."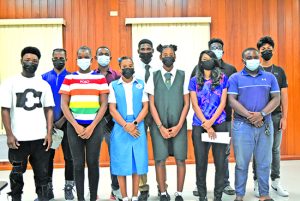 This contingent of Guyana's young athletes will be competing in the first ever Junior Pan American Games to be held. Aside from the benefits they would receive from participating in the tournament, Ninvalle, in his optimism, is exploring ways how the NSC can contribute to their sporting future.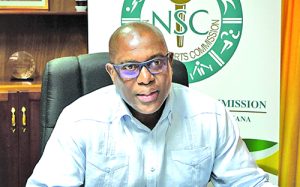 With 22 of Guyana's most outstanding under-23 athletes slated to participate in the Games, the Director of Sport (DoS), Steve Ninvalle, has highlighted that the event is great for gauging the level of their individual performances.
"It's a plus for us having a 'junior' team going out. [In some sports,] Guyana has not had a local competition here since February 2020. All of these youngsters who will be going would not have had competition, some of them a little longer than that," he explained.
"The Junior Pan Am Games is a very good gauge for us to understand where we are now, both physically and mentally," he said.
Asked what the National Sports Commission can do in the future to ensure that Guyana's contingent is much larger, the DoS responded that the National Sports Academy would be a great boost.
Explaining the purpose of the National Sports Academy to Guyana Times Sport, Ninvalle said: "…and this is why we're having that Sports Academy; this is all built to do that: to make sure that we have well prepared teams. And that is why we have the Elite Academy, whereby our elite athletes would be paid and they will have elite training. All of this goes into the national grid; it doesn't go into any other grid but our national grid. And that is why we have our nursery too, because we'll have a prepared nursery so that, who knows, after maybe one year of our National Academy, we will be seeing a (surge) of development in sport," he further reasoned.
Ninvalle went on to give encouraging words to the young Guyanese athletes, with expectations of great performances from them. "I would like to tell the athletes that; and this is something that the Minister would've said just last week when we were in Skeldon: 'No one is better than you!' We have to start believing that, and if we believe anything else, then we're starting on the wrong foot," the DoS shared with a smile.
He added, "I would also want to let them know that you have over 750,000 persons rooting for (you), and just to give of your best; your best is what will be accepted by us. So, give of your best, remember Guyana, and make us proud."
The Junior Pan American Games will begin today, Thursday November 25, and end on Sunday, December 5.