A Meten-Meer-Zorg, West Coast Demerara (WCD) fisherman who allegedly stabbed a fellow fisherman to death was on Friday slapped with a murder charge and taken to the Leonora Magistrate's Court.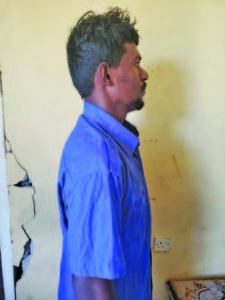 Twenty-year-old fisherman, Ramesh Ramdeen appeared before Magistrate Zamilla Ally-Seepaul. The charge stated that on October 20, he stabbed Noel Singh to death.
On Friday Prosecutor Thowan Carol informed the court that the murder suspect, of Meten-Meer-Zorg, West Coast Demerara (WCD), was arrested on Tuesday at Parika, East Bank Essequibo (EBE), some two days after the crime was committed.
A post-mortem examination (PME) revealed that he died as a result of perforation of the heart due to stab wounds.
The unrepresented man was remanded to prison and the case will continue on December 16.
Reports are on October 20, at about 20:00h, the suspect allegedly stabbed Singh in front of his residence as he (Singh) was returning home from a local bar where he and his friends had been consuming alcoholic beverages.
Singh was reportedly in front of his yard when the assailant confronted him.
The argument is said to have been a "continuation" of a verbal row the duo had some six days prior to the stabbing incident. The row on Sunday night escalated and the suspect reportedly whipped out a knife from the waist of his pants and stabbed Singh twice to the left side of his chest and once to his back. He then allegedly cut the fisherman along his left wrist.
Singh then collapsed and fell into the drain in front of his yard. He managed to climb out, covered in mud, and was picked up by one of his friends who had been in the street en route to a shop in close proximity of his home.
Singh was pronounced dead on arrival at the hospital.