Despite the rainy weather, two matches were played with Fisherman XI and Ariel notching up wins at the Everest Cricket Club ground, Camp road Georgetown to begin the long softball cricket season for 2017.
In the morning fixture in overcast conditions, Fisherman XI defeated Ariel by 19 runs in the morning fixture. The damp conditions suited the guys from Fisherman XI as they were led by opener Unis Yusuf with 43 in compiling a challenging 160-8 off their allotted 15 overs. The hard hitting Yusuf added 56 for the third wicket with Stanley Mohabir after they were reduced to 23-2.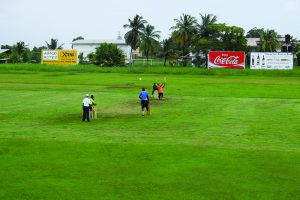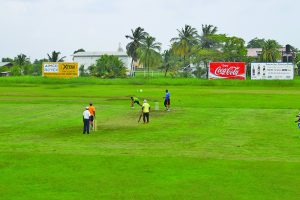 Following the demise of Mohabir for 29, Yusuf shared in another useful stand of 45 with Robert Mohan who was dismissed for 26. Yusuf struck three fours and two sixes as Ryan Singh claimed 2-21 and Dennis Mangru 2-27. In reply, Ariel lost two early wickets, but Richard Latif kept them in the hunt with level-headed batting. Latif added 53 for the fourth-wicket with Oslyn Batson, but after hitting four fours and five sixes Latif went for 69. Batson made 27as Ariel were limited to 141-6. Yusuf came back with the ball and almost had a hat trick to finish with 2-12.
Ariel then turned the table on HS Masters with a 21-run win in the afternoon fixture. Ariel batted first and scored 151-8 with Dennis Mangru blazing the trail with 45 while Ryan Singh made 25. The duo added 57 for the fourth-wicket to steady the innings following an early setback. Peter Persaud and Unis Yusuf chipped in with 18 and 16 respectively as Clyde Hoyte and Ramo Malone picked up two wickets each.
HS Masters were bowled out for 130 in 14.2 overs in reply with Hoyte anchoring the innings with an authoritative 72 while Troy Boodhoo made 30. The pair added 66 for the sixth-wicket with Hoyte hitting five fours and four sixes while Boodhoo hit two fours. Yusuf snared 3-7, Ryan Singh 3-18 and Mangru 2-20.
Teams will be using every opportunity possible to get in shape for the busy year of softball cricket with the first major competition being the Georgetown Softball Cricket League Premier tournament from February 3 to 5.