– country hailed as "reliable partner" to Guyana's development
President David Granger on Wednesday accredited the newest member of the diplomatic corps; Chinese Ambassador to Guyana Cui Jianchun, noting that the country, which has had some 44 years of diplomatic ties with Guyana, has been a "reliable partner to Guyana's development".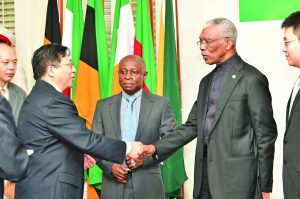 In the presence of Foreign Affairs Minister Carl Greenidge, the new Ambassador read his letter of credence, stating that Guyana continues to play a significant role in regional integration and upholding sovereignty.
"Guyana is an important country in the Caribbean region. Since independence, Guyanese have made relentless efforts to uphold sovereignty, develop the economy and improve people's livelihood and made remarkable achievements. Guyana has been actively engaged in the process of regional integration and played a unique role in international and regional affairs."
Meanwhile, President Granger said Guyana continues to look to the People's Republic of China for cooperation and assistance since that country shares similar sustainable development goals.
China is currently pursuing its 13th Five-year Plan (2016-2020), which is aimed at the development of a 'green' economy by introducing 'green' low-carbon series of industries; expanding sustainable energy sources; extending forest protection and establishing a 'green' development fund. President Granger said the two countries are embarking on a common path and as such, they can look to each other for cooperation and support.
"China has been a reliable partner to Guyana in development…Guyana's own 'green' agenda is consistent with China's objectives. Guyana is establishing a 'green' state with emphasis on the protection of our environment, the preservation of our biodiversity, the provision of eco-tourism and eco-educational services and the promotion of practical measures to ensure climate adaptation. Guyana, this year, will place an additional two million hectares of its territory under conservation. We are committed to a low carbon, low emission trajectory of development. Guyana looks forward to intensifying cooperation in the adoption of clean, green and low-carbon technologies and renewable sources of energy during your tenure as Ambassador," President Granger said.
In addition to a 'green' growth development focus, the President noted that the two countries share common values, such as mutual respect for each other's territorial integrity and sovereignty, mutual non-interference in each other's internal affairs, cooperation for mutual benefit, respect for treaties and international law and the maintenance of peace and security. As such, Guyana and China have enjoyed fruitful and cordial relations over the past 45 years.
Meanwhile, newly accredited Ambassador Jianchun, who replaces Ambassador Zhang Limin, said Guyana is a blessed and beautiful country with great potential for development. He noted that as the countries prepare to celebrate 45 years of diplomatic ties this year, opportunity must be used to forge new bonds and deepen ties between the two nations.