The ongoing efforts of the Berbice Cricket Board (BCB) to promote the importance of education took another giant step forward when the vibrant board hosted the second edition of the BCB/Adana Homes CSEC Awards.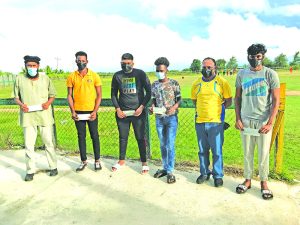 Five youth cricketers have on Wednesday last each received a financial award of $20,000 for outstanding performances recorded at the 2021 sitting of the CSEC examinations. The students are: Jeremy Sandia, Christopher Deroop, Zeymul Ramsammy, Shelton Ramsay, Roland Fullerton and Zeymul Ramsammy.
Another youth cricketer, Vettori Lathman, received his award earlier from the BCB when the Upper Corentyne Cricket Association hosted its Annual General Meeting late last month at the Skeldon Community Centre.
BCB President Hilbert Foster has said his administration places special emphasis on the educational careers of players because he strongly believes that education is the foundation of a successful life.
Also a Vice President of the Guyana Cricket Board, Foster has said only one percent of active players would develop into professional cricketers, and it is therefore important for the others to have an educational background on which to rely.
He has urged the awardees to seek other ways to improve themselves, and has committed the BCB to supporting their endeavours in any way possible.
Foster has disclosed that the main objectives of the BCB/Adana Homes CSEC Awards are: to encourage cricketers to make education a priority in life; to identity role models for others to emulate; and to make players better thinkers of the game.
Over the last four years under Foster's leadership, the BCB has provided educational grants to hundreds of youths to assist them in their pursuit of education, while more than 300 bicycles have been distributed to less fortunate students to assist them to attend school.
Additionally, close to 1000 youths have received school bags and educational materials, while the BCB has also awarded its first-ever University of Guyana scholarship.
Seeking re-election to the post of President at the BCB's Annual General Meeting on December 19, Foster has said the pro-education campaign would be expanded in 2022, while several major cricket development projects would be unveiled in the near future as the board strives to take the game to a higher level.
He has also expressed gratitude to Mr Satishwar Persaud and Adana Homes for their support of the Scheme. Mr Persaud is an overseas-based Guyanese who is actively involved in the promotion of the game in his adopted homeland of Canada, where Adana Homes is one of the leading real estate businesses.