-team doing well, players progressing…
…says there is room for improvement among players
by Brandon Corlette
Newly-appointed Guyana Amazon Jaguars Assistant Coach Ryan Hercules is hoping to play a role in the team's success, and ensure players progress to higher levels of competency in the game.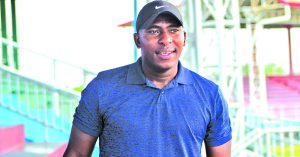 Describing his appointment to the senior regional set-up as "a good feeling", this athlete from the Essequibo county, who is assistant to Head Coach Esuan Crandon, also hopes to share some of his experience with the Jaguars players during his coaching stint.
"I must give God praise and thanks for seeing that through. It is a good feeling for me, knowing I can be around some high-level players and put in some work with them. I was looking forward to it, and it is a great feeling to be around those guys, learning from them and probably giving them some experience that I would have gained playing cricket in the past in England and Australia," Hercules has said.
Asked what got him into coaching, Hercules said it was injury.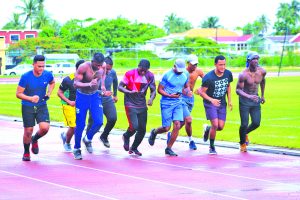 "Injury got me into coaching. In terms of my playing career, it was stopped short because of injury; but living in England and going to Australia, coaching was something we had to do (in) playing for clubs.
"I believe in getting knowledge and giving back to players as part of my philosophy as a coach," he explained.
Having coached Essequibo to the Cricket Guyana Inc franchise in the past, and having played a significant role in local cricket, Hercules took time to reflect on 'his journey'.
"It's been a long journey, starting off coaching and then coming back home and coaching in Essequibo set-up, and then in Demerara as well. For me, it is now the beginning, getting into the First-Class team, I'm looking forward for the years to come," he declared.
"In terms of achievement, once the team's does well, that is a good feeling for me. Players being successful getting into a West Indies (team) or going forward playing in franchise cricket… But in terms of my progression, I want to be a regular in the national set-up, and (I'm) even looking forward to being in the West Indies set-up in the future," Hercules disclosed.
Room for improvement
Meanwhile, the Assistant Coach has noted that there is room for improvement among the Amazon Jaguars players in relation to fitness.
"We had a good day today. We did a lot of core work, we did the 2k run, and we had some good results from the guys; but there is always room for improvement," he divulged.
In terms of preparation for the team, which is set to play the Regional 4-Day in February, Hercules said he and Crandon would make sure they put in the work with the players, while taking into account the weather.
On the opening day of the fitness test at Leonora, Tevin Imlach, Kevin Sinclair and Kevlon Anderson had some top fitness levels, while Sylus Tyndall and Junior Sinclair joined that group in terms of solid fitness levels on day two.