The Beharry Group of Companies' KFC Guyana has thrown its support behind the Guyana Football Federation's (GFF's) Kashif & Shanghai Super-16 Cup, which is scheduled to be held from December 11, 2021 to January 2, 2022.
The fast-food giant has recently presented the GFF with a donation of $10 million at the KFC Headquarters on Vlissingen Road. During that presentation ceremony, KFC Operations Manager Charissa Rampersaud noted that KFC is happy to partner with the Kashif & Shanghai organization; the GFF; and the Ministry of Culture, Youth and Sport to host the 2021 edition of this tournament.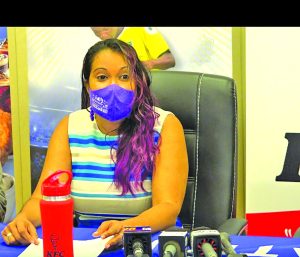 "Football is a unifying sport that brings Guyanese across the country together, and the Kashif & Shanghai tournament has been giving us that opportunity for the past three decades," Rampersaud posited. "KFC Guyana is proud of its contribution to keep this tradition and legacy alive.
"Many of us grew up hearing about the Kashif & Shanghai football tournaments, and many of our youths grew up aspiring to be one of the teams taking part," she said.
She declared that sports play an important part in the development of young people, and help them to be well-rounded individuals; and iterated that it is important that the Beharry Group of Companies continues to support these endeavours, as they support the aspirations of youths to be part of these great teams and exciting tournaments.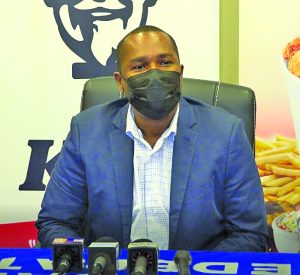 In responding, GFF President Wayne Forde said, "It is indeed a pleasure to visit the Head Office of KFC. It is indeed a pleasure, as we have been doing this quite often, as it also feels like home. By saying that, I'm trying to (speak of) the good relationship that we have had with KFC over the past couple of years. KFC has been sponsoring (our) Under-20 Inter-Association Tournament for the past two years, and we believe that that partnership will endure for the next couple of years.
"The GFF-K&S Super-16 Cup is an indication of a long-held tradition of my administration, and that is: seeking out partnerships that will help the game grow."
Forde has acknowledged that the Kashif and Shanghai organisation is renowned for pulling off exceptional events. He made it clear that the GFF is happy to partner with the Kashif & Shanghai organisation, and said he is looking forward to growing the partnership over the next couple of years.
He predicted that the KFC investment would go "a very far way", and said it is his belief that it would go "a far way in aiding youths to express and discover the lengths and depths of the talents they possess".
In closing his remarks, Forde said, "So, we would like to take this opportunity to thank KFC for their generous support to football and to many other disciplines over the past couple of years they have been operating in our local environment. I believe that KFC stands out as an example of how Corporate Guyana will impact the lives of young people in Guyana."