…J&J administration starts in Region 8
To continue its rollout of the Pfizer vaccines and make provisions for second shot administration, the Health Ministry is in the process of establishing fixed sites for adolescents to receive their jabs.
During Tuesday's COVID-19 update, Health Minister, Dr Frank Anthony stated that the intention is to create a fixed site in every region, where the Pfizer vaccines can be administered. This comes as the timeline closes in for administration of second doses – which is done within a 21-day interval.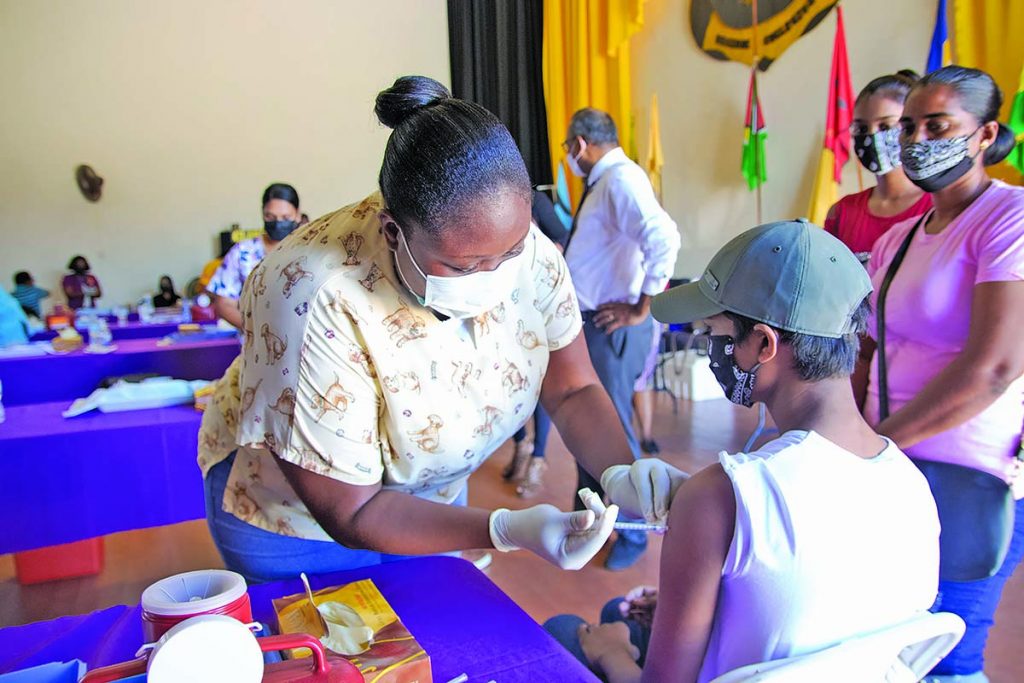 Additionally, he pointed out that health workers will return to vaccination sites to administer second doses. Since the start of the campaign last month, temporary sites have been created at schools and other locations to allow for the vaccination of youths.
"We'll be going back to the schools because it might be easier that way. Persons who got their vaccines there can come out and get their vaccines. Just a reminder that the interval is 21 days so we want people to come back and get their second dose. In addition, if you missed the school, we are now working to set up a fixed site in every region so that if you missed where you got the vaccine from, you can come to that fixed site and be able to get your Pfizer vaccine."
Since the rollout of the Pfizer vaccines, 18,862 adolescents have been immunised, measuring 25.9 per cent of the population. The Minister noted that as the campaign continues, greater collaboration is needed between communities and the Ministry.
"I think that's going fairly well. I think we need to, however, have stronger collaboration as we go into some of the communities, alerting people so that they can be there to be able to get vaccinated. When we're in a community, it's not just for the children who are attending that particular school but it's also for the young people within that age group who are in that area. Anybody, whether you're in school or out of school, you can come and get the vaccine once you meet the age requirement."
Government is aiming to vaccinate 72,000 youths within the age bracket of 12 to 17, using the 146,250 doses of the Pfizer-BioNTech vaccines which arrived as a donation from the United States Government. In trials, the double-dose Pfizer component has shown to be around 95 per cent effective, and is one of two vaccines approved for children by the Food and Drug Administration.
Meanwhile, the Johnson and Johnson vaccine is currently being administered to residents of Region Eight (Potaro-Siparuni). This will extend to Regions One (Barima-Waini), Seven (Cuyuni-Mazaruni) and Nine (Upper Takutu-Upper Essequibo).
"The J&J vaccine is a single dose vaccine so once you get one shot, you don't have to get another one. At least, that's for now. I see there has been discussions in the scientific literature about a possible second dose but we haven't seen any movement on that as yet. If there is going to be a second dose, then we'll follow accordingly."
Vaccination figures stand at 337,030 or 65.7 per cent for first doses; and 175,035 or 34.1 per cent for second doses as it relates to the adult population. (G12)