… as relief efforts continue in Chenapau, Ireng River communities
Residents in the community of Mahdia, Region Eight (Potaro-Siparuni) are recovering from an intense flash flood, which resulted in blocked roadways and several feet on inundation. Acting Regional Executive Officer (REO), Gavin Gounga on Saturday explained that because the community is in a mountainous area, the floodwaters would normally recede quickly. This is what transpired over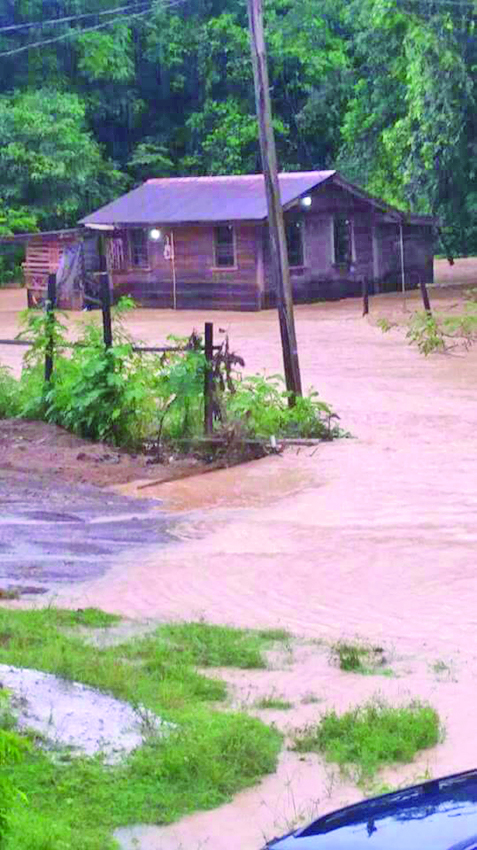 the weekend, and such, the impact was not as devastating as what occurred in other sections in Region Eight where much farmland was affected following days of flooding.
He stated that most sections are dry and all roads are passable again. The Region Eight REO also disclosed that relief efforts in Chenapau and communities along the Ireng River are continuing as residents there are still rebuilding their lives after they had been under several feet of water.
On Friday last, Mahdia residents woke to find their roadways and parts of their yards completely under water after a night of heavy rainfall. The Mahdia Creek had overflowed and the water snaked its way through the community, completely covering the roadways. However, no major damage was reported.
Gounga had said that such floods are expected whenever it rains heavily during the May-June rainy season. Residents reported that the flooding was the worst they had seen in over 20 years. Over 400 homes were affected and road access to the airstrip was cut off but all is largely back to normal.
Minister of State Joseph Harmon at his weekly post-Cabinet press-briefing had told media personnel that the Government along with the CDC was monitoring the situation.
Last month, several villages in Regions Seven (Cuyuni-Mazaruni) and Eight were washed away by severe flooding. Fortunately, no one lost their lives since water reached as high as 20 feet in some areas. The villages are still battling to rebuild and require immense support to bring their lives to some form of normalcy. The CDC and other stakeholders are working to assist those communities.