The popular New Amsterdam-based Payless Supermarket has donated food hampers to the Flying Ace Cycling Club (FACC).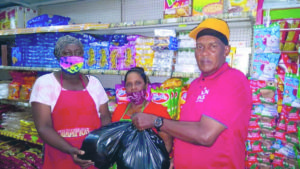 During the past week, this Randolph Roberts-led cycling club has benefited from donations made by Payless and other organisations as the battle against COVID-19 continues.
Roberts has expressed gratitude to the Payless Supermarket family for this great gesture. The FACCC members have benefited from grocery items such as sugar, flour and rice, among other items.
In addition to Payless, Flying Ace Cycling Club also benefited from a similar gesture made by the Guyana Olympic Association (GOA).
The cyclists of this Berbice club have welcomed the assistance as they continue to train and prepare for the grand return of cycling.
Roberts has declared that all his cyclists are in preparation mode as they seek a resumption of cycling in August.
Ryan Alexander, Senior Vice-President of the Berbice Chamber of Commerce and Development Association (BCCDA), had in June presented the FACC with 30 face masks.
Coronavirus cases are mostly found in regions other than Six (East Bce/Corentyne), but the cyclists under Roberts's charge are taking all precautions while training in small numbers.
Roberts is calling on cyclists to protect themselves from COVID-19 while staying fit, and to equip themselves with a never-say-never attitude. As more businesses continue to back the FACCC, Roberts is calling on more business entities to come on board the effort to assist Flying Ace cyclists during this challenging period of the pandemic.