As part of ensuring that medical facilities in far-flung and hinterland areas have their services boosted, medical-surgical outreaches are deemed necessary, so as to allow certain hospitals to have the support they need with specialised services.
According to Director of Regional Health Services, Dr Kay Shako, a three-day surgical outreach will be taken to Region One (Barima-Waini), in particular, at the Kumaka District Hospital.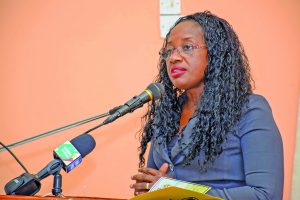 This outreach runs from September 6 to September 8, 2019.
During a visit there earlier this week, she stated that there are a number of concerns to be addressed at this health facility and that while some of them can be taken care of almost immediately, others will take some time.
"We want as much as possible [to] bring a number of services so that the people in Region One can benefit from them…of course, we will not only be having surgeries alone like obstetrics and gynaecology or orthopaedics but we also want to extend some of our medical services to you and we want to boost up your team," she told medical staff at that hospital recently.
According to Dr Shako, within that area in Region One, there are a number of women who need to undergo screening and other tests as it relates to cervical cancer, so that they can be aware of their health statuses.
"…and that is why we want that to play a pivotal role during our medical-surgical outreaches. Also, we want to ensure that persons know their status as it relates to HIV. And you know that HIV and tuberculosis, they go together," she said.
Additionally, Dr Shako underscored the importance of good mental health, not only for patients who seek services at any health facility but also for medical personnel since their jobs can be very stressful and intense many times.
"According to the World Health Organisation (WHO), it is a state of physical, social and mental wellbeing and not merely the absence of disease or infirmities…We want to make sure that our healthcare staff who are serving the public, that they are okay mentally…we know that there are a number of social issues that are there that overwhelm persons and affect them from impacting or providing positive services to the wider population," she noted.