Overseas-based Guyanese Floyd Fraser donated football equipment to football Coach Samson Gilbert on Monday afternoon at the Roxanne Burnham playfield.
Gilbert, who facilitates the Tavel Foundation Youth Football Camp, thanked Fraser for the donation, which included training bibs, footballs, shin guards, drill cones and football boots.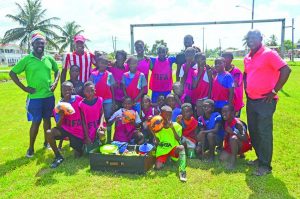 Coach Gilbert noted that the Foundation was East Ruimveldt-based, while the Camp kept the youths in the surrounding communities "gainfully occupied and teaches all-round life skills".
"The Camp, which is in its second year of existence, focuses on remedial reading and numeracy, drug awareness and conflict resolution sessions in the morning periods while we do football drills and training in the afternoons," he explained.
Gilbert urged sponsors to come on board the initiative and to support a worthy cause, while Fraser intimated that he would be contributing to the Youth Camp annually.
Fraser, who grew up in Charlestown, said that it was his love of the sport that pushed him to make a contribution.
The Camp, which was a resounding success last year, according to Gilbert, started on July 24 and would conclude on August 11. It is being held on a Monday-Friday basis starting from 10:00h to 15:00h at the Roxanne Burnham playfield on the East Back Road, with lunch being provided for the participants.