The Guyana Football Federation (GFF) would be looking to expertly utilise their recently acquired knowledge of conducting professional leagues in order to transform Guyana's outlook in that area.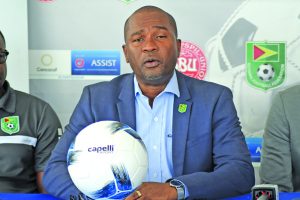 Following a three-day workshop which focused on professional club and league development — conducted over the weekend at the GFF's National Training Center at Providence, EBD — the Federation and its members are now in a better place when it comes to planning and logistics.
"I was very pleased, and not surprised at all, with the level of interaction and engagement; and talking to my presidents and secretaries that participated in the workshop, they all felt that it was very beneficial," GFF President Wayne Forde has said in a short assessment of the UEFA Assist-led workshop.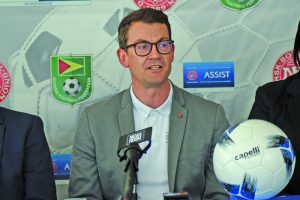 "To me, it brought them to a place of enlightenment. We talk a lot about professional football, and we watch a lot of professional football on the pitch, but very few persons would know what it takes to get to the level that we so much admire; and while we are arguably some distance away from professional football at its fullness, I think if we start to take deliberate baby steps with some consistency, in the not-so-distant future, we can all look back and be very proud of where it all started."
UEFA Assist International Relations Project Specialist Chris Milnes has also been delighted with the major boost that local clubs and associations have received.
Milnes said, "I think we both agree that this was a real milestone in terms of development of football, men's football in Guyana. So, we really treated this as an opportunity to bring together the regional associations, to bring together the clubs, to bring together the GFF, because everyone needs to work together. These key stakeholders cannot achieve what we would like them to achieve without working together," the UEFA Assist Representative has added.
One aspect that has caught the GFF boss's attention is handling sponsorship, a tactic which he hopes to utilise in order to build more partnerships for the Federation.
"We don't like to use the word 'sponsorship', but 'engaging partners and people who may want to invest in football'. I think the workshop focused on income-generation from the club perspective, and there were certainly tools there that even the Federation can utilise," Forde commented.
"Partnerships are important. And what we have learned — and you may have seen some momentum in us gaining more and more partnerships — we've learned that a critical component of securing an investment partnership is taking time to understand what that partner may need in terms of the reciprocation of value," he explained.
Quizzed about how the league education would be linked to the GFF's Elite League, Forde responded that it could be of some assistance; but, he said, the GFF is thinking beyond the Elite League.
"It has a connection to the Elite League, because the Elite League is the highest level of local male competition," he explained.
Forde continued, "The Pro League project that we've been working with UEFA Assist and CONCACAF on for the past 20 months I believe, or more, is a completely different creature, and this has taken it to a different level altogether.
"So, yes, the information and knowledge that was shared during the workshop will benefit the Elite League clubs, which will automatically benefit the league, benefit how the Federation operates the league; but we're aiming a little bit higher, we're a little bit more ambitious," he disclosed.
The UEFA Assist Workshop commenced on Saturday last and has concluded.