… Urges students to take their education seriously
By Timothy Jaikarran
Cricket West Indies and Republic Bank joined hands on Tuesday, June 21, to launch the "Five for Fun" programme in Guyana at the Cliff Anderson Sports Hall on Homestretch Avenue in Georgetown.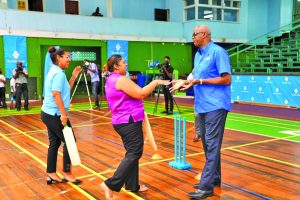 This is a programme that caters for children at the grassroots level, and it has the full endorsement of the legendary West Indies pacer Courtney Walsh.
In an exclusive interview with this publication, Walsh was asked his view on the "Five for Fun" programme, and he responded as follows: "It's good, because it gives kids the opportunity to express themselves and be out there and have a bit of fun. So, programmes like these I fully endorse, because you never know where your next star is going to come from; and I think having something like this around, where you can see them out in the open playing, will give you a chance to spot talent as well. So, everything for it is a win-win."
Further, Walsh noted that the programme has lots of potential, as it can produce future stars for the West Indies. He related that young talents would be seen for the first time in the "Five for Fun", and hopefully they can be spotted in the regional group or under their age group, and they can progress from there.
He divulged that the programme would definitely give a major boost and opportunity for children to come out and play, and take part and be spotted from there.
Walsh has advised the children participating in the programme to go out and have fun, while being obedient to their coaches. He explained that originality is key, and they should always back themselves to do things, as they are never too old or young to learn.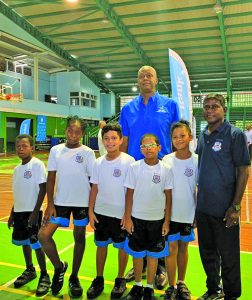 Moreover, he has said that for the children in the programme, it is key to have fun and listen to their coaches, and this would benefit them in the long run.
Pertaining to the role of sports and education, the West Indies great commented, "Education is the key; that is the first and foremost (thing) you have to do (get educated). You have to ensure you take your education seriously, and then balance that out with the sports. I would say to them: 'Make sure you pay keen attention to your education, and go and have fun with your sports'."
The "Five for Fun" programme would also entail sessions for physical education teachers and coaches from July 1-3, 2022; Republic Bank's "Five for Fun" Summer Training Camp from 8 July to 2 August, 2022; and Republic Bank's Inter-County Festival from 3-7 October, 2022. The Republic Bank's National Finals would be held on 14 October, 2022, and would be hosted in Georgetown, and an advanced cricket talent camp would be held from 26-28 October, 2022.
"Five for Fun" pits boys and girls of all abilities together as equals. Each "Five for Fun" game involves 5 players per team playing five 6-ball overs. Each batter would face an over from a single bowler. If a batter is 'out', that batter would still face their allotted overs, but 3 runs would be deducted from the team's score.
In his illustrious career, Courtney Walsh has claimed 519 wickets in 132 Tests, and another 227 wickets in 205 ODI matches.