By Fiona Morrison
Hospitals never close. In fact, they provide a 24-hour service, seven days per week, 365 days per year.
While Christmas Day is an automatic day-off for some, the same privilege is not given to healthcare workers due to the nature of their work.
Accidents, illnesses and emergencies do not take a day-off. For some nurses attached to Guyana's main health institution – the Georgetown Public Hospital Corporation (GPHC) – working on Christmas Eve/Christmas Day is an honour, as they serve humanity.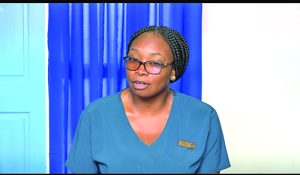 During a recent interview with Guyana Times, they shared their experience working on these two days and what they did to put their patients in the festive spirit. For most of them, it was a mixture of happiness and sadness.
They were happy to help patients, including newborn babies, but at the same time, they were sad to be away from their families and friends.
Tiffany Scott, a Registered Nurse, who holds a Bachelor of Science (Nursing) degree and is attached to the GPHC's Maternity High Dependency Unit (HDU), shared that most of her patients were not in the Christmas spirit, because they all wanted to go home.
According to her, among the patients in the HDU are high-risk mothers, including those who have given birth and have high blood pressure, or had a seizure before and after pregnancy.
"Patients who have been in the ICU [Intensive Care Unit] for a few days, they would step down to HDU. They would be there until they are well enough to be transferred to the open ward or to be discharged to go home," said Scott who has been in the profession for seven years.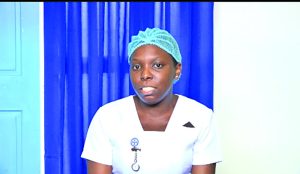 For some patients, the presence of hospital staff who genuinely care for them can be a source of companionship and comfort. Scott shared that her supervisor had their workplace decorated to "lift the spirit" of mothers who were kept at the hospital on Christmas Day and Boxing Day.
Asked to explain how Christmas Day at work went, the nurse related, "It was boring. Their [the mothers'] family came to visit them. A lot of them were not happy to be spending the holidays there. It was no special kind of feeling. I had to be there to work with them."
"I am very jovial and a few of them were laughing," related Scott as she disclosed that fortunately, no one died. Scott was also on duty last year on Christmas Day.
As a nurse, she offered that "it is a really great experience to know that someone has recovered enough to be placed in a step-down unit [HDU]. To the general public, the ICU is like if you're going to die. So, when they come out, especially mothers, it is a good feeling. They were able to get discharged, because when I came back the following day, most of them were not there."
Working on Christmas Day was a wonderful experience, related Registered Nurse Shanesa Russell, BSN, who works at the hospital's Neonatal Intensive Care Unit (NICU). She confessed that she would always choose to work on Christmas Day.
"In our department, we always look forward to that moment when mothers can come. We try to dress our babies in Santa hats just to give the mothers that extra feeling to know that even though we are not at home, we can still have that Christmas joy," added Russell, who has been working at the GPHC for almost a decade.
According to her, her unit cares for babies who are born with birth abnormalities or respiratory distress. The Registered Nurse, who has worked on Christmas Day for the past five consecutive years, noted that the staff at the GPHC always would try their best to ensure that each patient survived.
Nurse Russell, in concluding, pointed out that nursing was not just a science but a work of art that required great empathy and courage. "When a career and a passion come together, you will not just do your work, but you will put love into your actions."
On the other hand, for Staff Nurse Nickacy McDonald working on Christmas Eve Day was "nice", because different persons came and distributed toys to the children. She explained that the Paediatric Unit was known for having the best Christmas decorations:
"We decorated the unit and ensured that it looked lovely, so that the kids could have taken pictures with their parents. They [the children] were very happy."
McDonald has been on staff at the GPHC for a year and is looking forward to many, many more.
Chonnette King, of the Paediatric Medical Unit, related that working on Christmas Day, like any other holiday, was amazing, because different charities would come and distribute presents and goodie bags to the patients.
She added that the nurses would help to distribute the items to the children and their parents, and that "experience is a remarkable one".
Joining the nursing profession was a personal choice for King, who had to care for her ailing grandmother before she passed. "Being able to take care of her before she passed was a very fulfilling feeling. That drove me to want to help others," a smiling King stated.
The nurses are looking forward to serving the public in 2023 and extended wishes for a happy, healthy and prosperous New Year to everyone.