…President instructs entire Cabinet be tested
…Suriname President, First Lady, team also tested
In a shocking turn of events on Wednesday, President Dr Irfaan Ali announced that Foreign Affairs Minister Hugh Todd has tested positive for COVID-19 and that as a consequence, the Cabinet will be self-isolating while they await their test results.
President Ali made the announcement in an address to the nation after a press conference scheduled to be hosted by Vice President Bharrat Jagdeo was cancelled. Ali noted that Foreign Affairs Minister Hugh Todd recently had contact with someone who tested positive for COVID-19.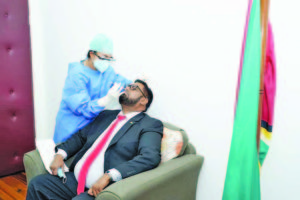 "We're dealing with a global pandemic and I have assured all Guyanese that there will be transparency, openness and accountability in the way your Government operates… Minister Todd brought to my attention that he came into contact with an individual who tested positive for COVID-19," he said.
He said that the Foreign Affairs Minister took a COVID-19 test which returned positive. "I've since advised him to inform all individuals who he came into contact with, to work with the Minister of Health to facilitate contact tracing and possible testing."
Entire Cabinet tested
The President also revealed that he has instructed his entire Cabinet, which met as a collective on Friday, to undergo COVID tests. He said that while they await the results from the tests, Ministers will be working remotely and self-isolating. Indeed, pictures were subsequently released by the Office of the President showing a number of Cabinet members getting their polymerase chain reaction (PCR) tests done.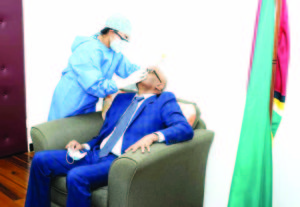 They include the President himself, Vice President Jagdeo, Attorney General Anil Nandlall, Health Minister Dr Frank Anthony, Home Affairs Minister Robeson Benn, Minister of Natural Resources Vickram Bharrat and Minister within the Prime Minister's Office Kwame McKoy.
Take precaution
Moreover, Ali urged the population to remain cognisant of COVID-19 and to take every precaution. According to President Ali, it is important for Guyanese to work together in order for the country to overcome the pandemic. When it comes to the Government, the President made it clear that his Administration will continue to comprehensively address the pandemic.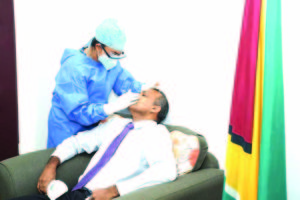 "I have made a commitment to conduct the affairs of the Government transparently. And there is no greater issue that requires transparency at every level than the way we address COVID-19. For this reason, I have taken this step to inform the public of this development. My Government has taken a holistic and comprehensive approach."
"I commit to doing everything necessary to ensure the safety of the Guyanese people. I also want to remind all Guyanese that this pandemic has no barriers. As such, I ask you to continue to take the necessary precautions.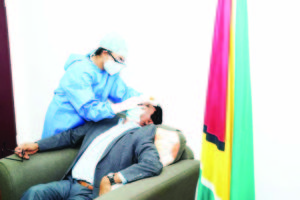 Ensure that you follow the guidelines. Ensure you wear your mask, especially in public places. Ensure, as far as possible, you adhere to social distancing."
Minister Todd, like most members of the Cabinet, was sworn in at the Arthur Chung Conference Centre (ACCC) on August 6. Since then, he has had a number of engagements and been present during the joint press conference between President Ali and Suriname President Chan Santokhi. In addition, he has received courtesy calls from a number of diplomats.
As of Wednesday, there have been 623 cases of COVID-19 in Guyana, including 21 new cases. According to the breakdown, 412 are in institutional isolation, five are in the Intensive Care Unit (ICU) and there have been 22 deaths. (G3)